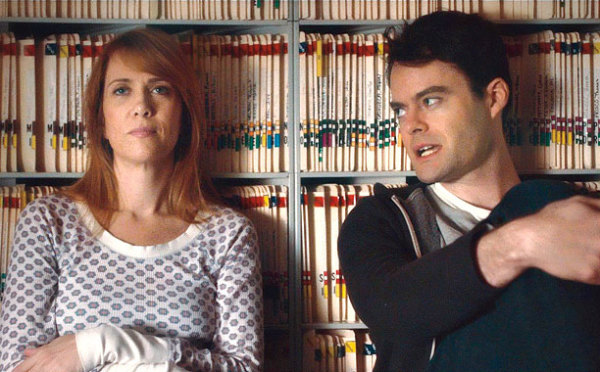 Twins Maggie and Milo (Kristen Wiig and Bill Hader) are brought back together after ten years apart, crashing in on each other's own particular brand of cobbled-together existence, suddenly forcing them to take a long hard squint at themselves.
At first It's not absolutely clear why the twins decided to live on opposite sides of the country from each other and for a time we, and they, are believing that they just drifted apart. They certainly seem like very different people, especially based on first glance at Maggie's cosy existence with the extremely enthusiastic Lance (Luke Wilson). But the layers of narrative are slowly, cleverly, peeled back, exposing new dysfunctions and secrets with every scene like a miserable game of pass the parcel.
Apart from all the dysfunction unravelling, The Skeleton Twins is unbelievably heartwarming and above all else is an absolutely brilliant depiction of what it is like to share your life with siblings, warts and all. No one else can truly understand where you come from, physically and emotionally, like a brother or sister can. The humour, the solidarity, the singing and the unbelievably cutting insults are all in there, sliding The Skeleton Twins into that narrowly defined category of truly beautiful best bud films. It is neither comedy nor tragedy but contains aspects of both.
A world where our cinemas were widely populated by films featuring the best of the SNL alumni would be a very nice world indeed. A world where humour, sombre reflection and biting truth can exist on the big screen with nicely rounded and believably written characters. The Skeleton Twins is a little piece of such a world. Wiig and Hader are painfully perceptive in their portrayal of their respective characters. Luke Wilson is both lovably and annoyingly clueless, the sort of role he has made his own over the years. Other characters drift in and out but the focus of the film is squarely on the twins and their importance of their relationship. This is what will make it stand apart from many other films in the multiplex and beyond, the refusal of writer/director Craig Johnson and writer Mark Heyman (Black Swan, The Wrestler) to conform to the normal way of things: unlike in Hollywood, everyone here is hero and villain and romantic relationships are only one part of life, not everything.
Maryann has awarded The Skeleton Twins four Torches of Truth