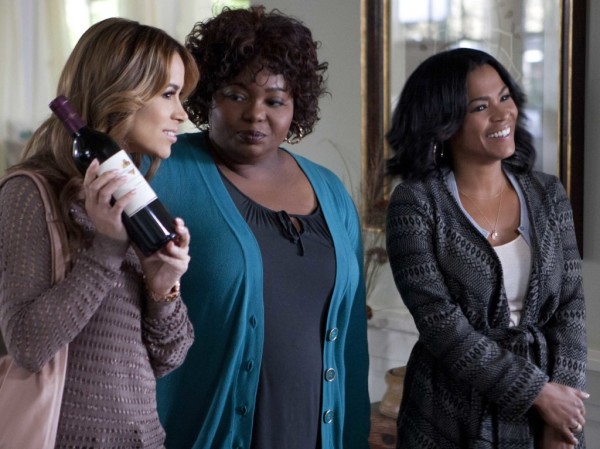 Tyler Perry has a reputation for producing films known for crass humour and celebration or revelation in despair. The Single Moms Club contains neither of those defining aspects. Five different women (Wendi McLendon-Covey, Nia Long, Amy Smart, Zulay Henao, Cocoa Brown) are thrust into an unexpected alliance as a result of their respective children being caught together in innocent acts of youthful indiscretion on school property. All they think they have in common is the fact that they are all single mothers and as this is a lighthearted sort of film, it is highly likely that they will be proved wrong.
The Single Moms Club does initially appear to rely on certain stereotypes, the larger than life poor black woman, the ball-busting publisher ignorant white woman but most of the characters redeem themselves in one way or another on their collective journey to being a support for each other. They all joyfully lay claim to the sad mantra of most mothers – that they are not doing a good enough job – and show how much of a struggle parenthood can be if you're flying solo. However, despite the periodic moments of gloom it is a defiantly hopeful and diverting way to pass a couple of hours.
Although the film does eventually give in to the cliche and feelgood-ness of many of the films in this genre [ooh, let's all get together in the end at a sparkly ball with stupid decorations and everything is just dandy] it makes some important points about being a woman who has children. The Single Moms Club is the latest in a number of films or TV programmes throughout the decades to highlight the struggle they face; Baby Boom and Diane Keaton's disappointment come to mind, specifically the scene in which as she considers the fact that the younger, single man she had trained (James Spader) had been chosen to do the big job ahead of her. This scenario rears its ugly head in The Single Moms Club and no doubt is being repeated again and again all over the world, off screen. So well done Tyler Perry for throwing some more light in this direction.
Extras
Two darling featurettes in which the cast members and writer/director reveal how much they loved working with each other and discuss the fact that the men in the story were just there as window dressing for the women.
Maryann has awarded The Single Moms Club on DVD three Torches of Truth