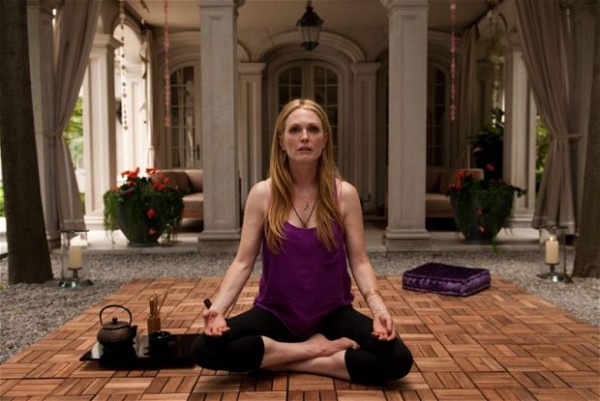 After blowing our minds with body horror classics in the 80s and 90s, David Cronenberg quietly crept into more cerebral territory; focusing less on the outwardly graphic visuals and conjuring more subtle and creeping fables, equally provocative as they are compelling. Maps to the Stars follows a handful of fictitious celebrities and their servants living in LA. Depicting a myriad of damaged lives, the narrative unravels to reveal how they operate at a borderline psychotic level with broken social skills and fractured personalities. It is a mesmerising journey with supernatural levels of surrealism woven into the subtext, augmenting the film with a disorientating, dream-like quality.
Mia Wasikowska plays Agatha, a young Hollywood hopeful and PA to fading starlet Havana Segrand (Julianne Moore), the daughter of a golden era movie star who died in a house fire. Havana attempts to re-ignite her career by auditioning for a role in the remake of a film once made famous by her mother. Meanwhile Agatha reunites with her estranged family and befriends a wannabe screenwriter/ limo driver played by Robert Pattinson.
Cronenberg's masterful weaving of various strands make for a hypnotic and engrossing excursion through a haunted Hollywood of ravaged egos and burnt-out personalities. The most absorbing plot strand focuses on young actor Benjie, played by the fantastic Evan Bird, a tween in rehab while working on a derivative, low brow comedy sequel from a successful film franchise. Benjie's relationships emphasise a dark, complex insecurity at the heart of the characters.
Observing through his trademark isolate gaze, Cronenberg's style is laced with a biting, sardonic humour which rouses a welcome warmth. While not as dreamy or abstract as Mulholland Drive (2001), there are many similarities to the Lynch masterpiece, as well as with The Player (1992) and the films of Todd Solondz. Cronenberg unveils dream sequences while providing a commentary on Hollywood life instead of presenting a plot punctuated with the type of claret dousing money shots that made him famous.
Maps to the Stars is a burnt out celebrity gossip column observed drunk through a lava lamp and wallows in psychosis instead of sensationalising the weakness of its characters. It is subtle, restrained and only slightly unnerving with ravaged, naked temperaments while throbbing subtexts meld for a faux expose of a frazzled tinsel town that is deplorable, hilarious and blissfully surreal.
Daniel has awarded Maps to the Stars five Torches of Truth