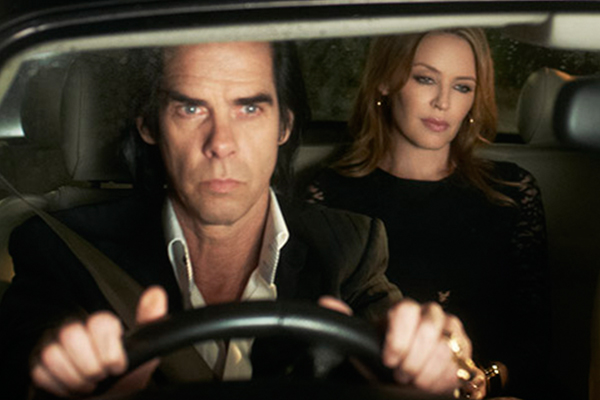 Iain Forsyth and Jane Pollard's documentary about angst-ridden rock poet Nick Cave dismantles his foreboding but debonair persona and digs for humanity with extraordinary results. Drifting between ersatz psychotherapy sessions between Cave and a shrink journalist, the film probes the icon by dusting off old film footage and photos, examining his creative process and linking fame fears with a possible God complex.
More a beguiling work of art than a standard rock doc, the directors interject an air of the ethereal by peeling away the layers of the singer's psyche and techniques via ambient music and imagery while deconstructing his image for an enthralling insight. Fictional segments of Cave in real life are interspersed with footage of Bad Seeds' performances, the band at work in the studio and historians rummaging through boxes of old photographs, projected onto a big screen for scrutiny.
Colleague contributions are presented as fleeting day dreams with Cave driving through a dew-dotted Brighton. Instead of the flat, monotonous talking head sequences, these scenes affix an otherworldly air as Cave chats with Kylie, Ray Winstone and ex-Bad Seed Blixa Bargeld. Never one to shy from exactness in the flaunting of lyrical angst, Cave dictates accompanied by a melancholic avant-garde score (by himself and Warren Ellis), along with Bad Seeds' tracks to amplify the disorientation. A scene featuring Cave and Ellis reminiscing over old times and concerts with Nina Simone while chowing down on fried eels is also very charming.
It is sultry and elegant film-making whether you're a Cave fan or not. The music is astounding and the cinematography wonderful. The only significant flaws to be found would be the slightly overlong running time and that it repeats itself on occasion, yet it remains a bleak and wondrous study with magical seam-bleeding editing and great bravado. Cave's willingness to throw himself open rather than adhere to the angry vamp that epitomises his work is a striking feature.
20,000 Days on Earth is a truly mesmeric experience with alluring, abstract sequences. Hopefully all documentary film-makers will continue to experiment with the pushing of filmic boundaries and breaking of genre conventions in such a refreshing and riveting manner as is on display here. As a result this is by far one of the greatest rock documentaries ever made and a sure-fire game changer.
Daniel has awarded 20,000 Days on Earth four Torches of Truth