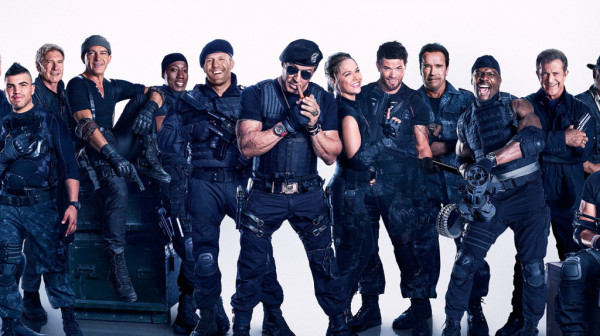 The cluster of renegade meat-heads return for a third, bullet-ridden, bomb ballet, this time with increased lampooning and minimal bloodshed. Stallone is back as lolloping, fed-aide Barney Ross with customary lugs Lee Christmas (Jason Statham), Toll (Randy Couture), Gunner (Dolph Lundgren), Yin Yang (Jet Li) and too many others to list here.
After breaking old pal Doc (Wesley Snipes) out of prison (and then re-attacking it with some kind of phallic bomb rocket) Barney and co discover Mel Gibson's rogue, former Air Service Operative Conrad Stonebanks is up to no good so set out to thwart his plans with the help of some younger, more able-bodied recruits.
As usual the story is irrelevant (or not there) but Expendables 3 is teeming with personality and homage to the testosterone-loaded action mulch that dominated the 1980s box office. Despite the bloodless violence, director Patrick Hughes' self-mocking MO comprises warmth and humour but evokes occasional weariness.
It's an obvious criticism but the lack of originality and narrative innovation hinder the whole, which would have been awful were it not for the cast. Stallone appears discombobulated, like a war-warped lobotomoid which is commendable in a way, suggesting a feral zeal for the material and a need to soldier on, but it takes more than savage gusto to make the excursion worthy.
Bruce Willis is absent this time round, declared "out of the picture" by grouchy substitute Max Drummer (Harrison Ford) but 'new' faces Antonio Banderas and Kelsey Grammer are there to make up for Willis' absence by sending up their ages and role stereotypes.
The Expendables have been borderline farce and are closer to flat-out parody with every new entry. It's still entertaining and intentionally hilarious in parts but unintentionally funnier in others; more like The A-Team meets Last Of The Summer Wine than the 18-rated action that originally inspired it.
On the whole, The Expendables 3 is a light-hearted but hollow action romp teeming with character and muscle humour and expectedly lacking originality and plot. The cast are a blast and amble through the action with tongues firmly in cheek but the notable lack of drama and script ingenuity override the renegade zest of the crew and extravagant but not so novel stunt sequences.
Daniel has awarded The Expendables 3 two Torches of Truth