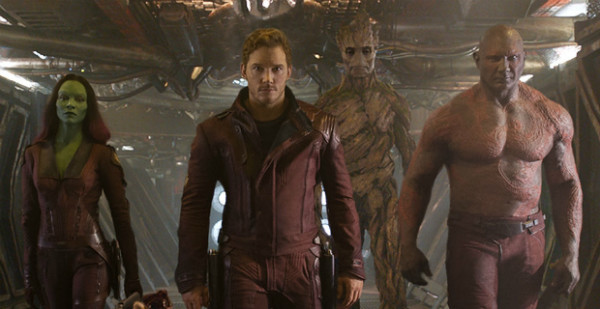 In the wake of the post-Avengers solo sequels, the Guardians of the Galaxy have finally arrived. It is the final Marvel film before Avengers: Age Of Ultron but with little more than a cult-comic following, can its derivation be enough to garner new fans and sufficient box office returns? GOTG has been deemed 'Marvel's big risk' and has a lot to prove but is a rollicking hoot all the same.
Chris Pratt plays Quill, a space-bound earthling using the nom de plume Star Lord, trying to make his name as a buccaneer scavenger, or intergalactic David Dickinson, in search of alien artefacts. After acquiring the sought after infinity stone, Quill is propelled into a battle-loaded adventure with opposing galaxy heads and joins forces with alien martial-artist Gamora (Zoe Saldana), the gun-toting Rocket raccoon (Bradley Cooper), CG tree beast Groot (Vin Diesel) and brick-house, ex-con Drax (Dave Bautista) on a quest to sell the orb, thwart the bad guys and make a fortune.
The narrative is template with clichéd arcs and plot curves but Marvel and Director James Gunn have crafted a highly enjoyable and energetic space jaunt with relentless humour, gung ho momentum and colourful characters. There is also a 2D panto-villain, Ronan (Lee Pace) who seeks the stone to destroy planets and rule the universe while Michael Rooker is brilliant as the crafty hoodlum Yondu.
GOTG is more family-friendly than Marvel's recent conspiracy thriller inspired Captain America: The Winter Soldier and doesn't aspire to be ground-breaking in terms of narrative. It is refreshingly light on violence but anyone expecting more than vibrant entertainment should definitely look elsewhere. There is a predictable overabundance of CGI and very little story progression in the latter half but the comedy and playful nature prevail.
Not all of the humour works and some of the misfires are grating yet GOTG remains a rip-roaring, CG splat of an adventure. What it lacks in plot ingenuity GOTG partly makes up for with comedy gusto as Marvel embraces a more playful side. However, despite its sense of adventure there is still a hollowness at the film's core, glossed over by goofy CG exuberance.
Daniel has awarded Guardians of the Galaxy three Torches of Truth