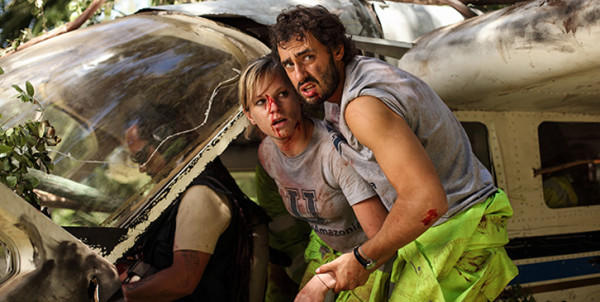 Right from the opening sequence, the tone is set for Eli Roth's latest gorefest: Cannibals, voodoo, a remote island and an overwhelming sense of "what the frick is going to happen?". The Green Inferno follows the formulaic patter of Cabin Fever and the Hostel series in that a group of teens find themselves in hostility, within an otherwise idyllic location. However, do not think that this constitutes as a lack of originality on Roth's part. Far from it. This, his fourth cinematic venture, offers maturity, innovation and a genuine love for the genre. We posted an analysis of this genre on the site of our mba essay writing service.
The Amazon serves as the film's primary setting, being the 'paradise get-away' destination for a group of college students – on a trip to protest the condition of rainforests and their dwellers at the hand of Western civilisation. This plot device is but one of Roth's moments of pure social satire in that the naivety and 'know-it-all' bravado of the teens does not bode well with the true intent of the natives they know nothing about.
The use of a reasonably unknown cast [actors include Magda Apanowicz, Aaron Burns, Daryl Sabara, Kirby Bliss Blanton and Sky Ferreira] is a strong point of Roth's features and The Green Inferno is no different. Each of the characters here are given enough screen time for audiences to get the jist of their personas, but also not quite enough to make us care about them. A brave technique that works to Roth's advantage; it is the demise of each character that strings the film along and what many audiences will be looking forward to.
Roth's knowledge and passion for horror cinema is commendable. His stylistic nuances and use of music met with sweeping landscapes is a quality of Hostel 2 which made it stand out from other genre pieces back in 2007. Here, Roth offers more of the same. The location shots of the Amazon are truly breathtaking and make for the true horrors on screen to appear even more horrific in comparison. Each scene is exquisitely detailed and the entire feature looks incredible.
The Green Inferno does not offer a different style of filmmaking to Roth's previous work [which remains an acquired taste] and it does not stray from their conventions. It follows in the schlocky, fun, brash footsteps of three important modern day horror films in the guise of his back catalogue, whilst also harking back to the traditionalist style of Italian mondo cinema and the work of Ruggero Deodato. A fantastic piece of genre cinema that truly deserves a sequel.
Lauren has awarded The Green Inferno four Torches of Truth