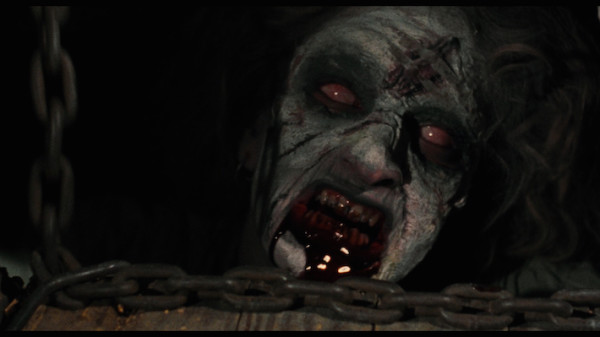 In one way or another, 'Video Nasties' have been a part of my life for 30 years. Initially, the lurid VHS covers displayed in my local video shop, advertising the likes of Cannibal Holocaust and The Evil Dead, were catnip for a boy on the cusp of adolescence. Once the films themselves had been effectively banned by the BBFC, and in some cases prosecuted for obscenity, due to the wholly spurious media frenzy and Middle England hand-wringing over the supposed damage these films could do to viewers (and their pets apparently), they then became Holy Grails; rites-of-passage viewing for the long-haired, heavy metal loving teenager I morphed into. Subsequently, the fatuous moral panic surrounding these movies has been a source of endlessly fascinating, academic interest in adult life.
Clearly, then, Jake West's documentaries, Video Nasties: Moral Panic, Censorship & Videotape, and his follow-up, Video Nasties: Draconian Days, have been as essential a part of my viewing schedule as Anthropophagus: The Beast and Nightmares in a Damaged Brain once were. Formally, and as with West's first documentary on the subject, Video Nasties: Draconian Days employs a rote mix of contemporary talking head interviews, archive news footage, film clips and graphics to cast an eye back to the years 1984-1999 that provide the film's subtitle. A number of familiar faces covering both sides of the argument, from the worlds of politics, film-making, academia and journalism, including Julian Petley, Mary Whitehouse, Alex Chandon, Spencer Hickman, James Ferman and Graham Bright pop up – either in new or archival footage – as West recounts the scare stories, censorship battles and debates surrounding extreme movies that ran for well over a decade following the Video Recordings Act 1984.
A reminder to those of us who lived through the period and an intriguing history lesson to those who didn't, Draconian Days and its predecessor, while breaking no new ground in terms of documentary film-making, stand as important historical records of a very bizarre and infuriating time for horror movie fans. For the avid video gamers out there, West's documentaries show clear evidence, if any were needed, that the moral panic that has attached itself to that industry in recent years will eventually be viewed with the same head shaking, what-were-they-thinking nostalgia that the Video Nasties era now is.
Neil has awarded Video Nasties: Draconian Days three Torches of Truth

Video Nasties: Draconian Days screens at the Prince Charles Cinema, London on 3rd July and is included on the forthcoming Video Nasties: The Definitive Guide Part 2 release on 14th July.