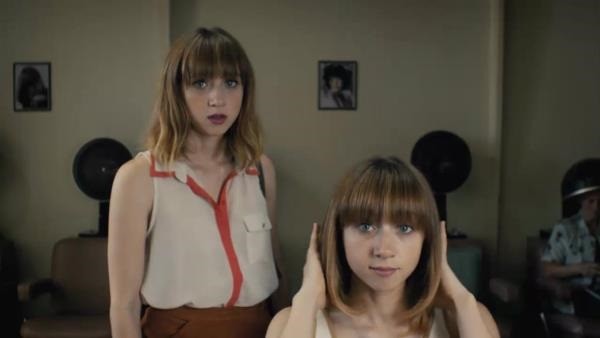 Films that focus on the way women are considered attractive when they put make up on [and not noticed when they don't] usually end up being sickly sweet non-explorations of the subject. The Pretty One is sort of a cut above that category. Zoe Kazan (Ruby Sparks, 2012) plays identical twin sisters Laurel and Audrey, who couldn't be more different in personality and who get noticeably different treatment from everyone in their lives.Then everything changes in the space of a day; leading Laurel to make the slightly questionable decision to spend some time in the shoes of her 'prettier' and more successful sister Audrey, with both dark and sweet consequences.
Validation comes quickly for Laurel, after neither her family, nor Audrey's colleagues or boyfriend (Ron Livingston) can tell that she is not herself. It also brings some pain, of the existential kind. Jake Johnson plays 'new' Audrey's love interest, a man that the real Audrey had previously mocked for his personal hygiene standards, who bumbles around very much in the style of his character in New Girl.
One of the biggest issues when you have a person playing more than one character is that you get fed up of the scenes where the images are clearly manipulated, with any chance of meaning in the narrative is thrown in the bin, usually in the name of some weak-ass comedy. Here, Zoe Kazan's dual role is merely a conduit to telling the bigger story: the apex of the sibling inferiority complex, that of being unfavourably compared to your identical twin sister by yourself and the world. However, The Pretty One very much follows the standard plot points: big shock, gain everything, lose everything, gain some different stuff that you thought you'd lost down the back of the sofa.
My main complaint with this film was that it ended up focusing on Laurel's romantic ambition a bit too much. It could have done with a lot more dark exploration of the twin competition thing. There is a quirk factor which saves The Pretty One from the sickly sweet non-exploration category but it didn't go far enough to put that category behind it. Are the people who think more of themselves considered more attractive? That seems to be the answer put forward by this film. Kazan is very likeable, which helps the cause somewhat. Enjoyable and even shocking in places, The Pretty One could have been a better film but it is still a good one.
Extras: A short featurette on the special effects used in the film.
Maryann has awarded The Pretty One on DVD three Torches of Truth