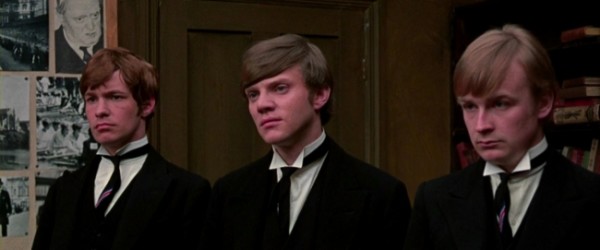 A self styled band of Public School Boys, calling themselves "The Crusaders", rebel against their institutional brutality in 60's Britain.
Lindsay Anderson's film serves as a 60's version of This Is England. But if you didn't find yourself with growing pains during that period this film will not make you hark back to those days. A thinly veiled plot is in effect, but it feels more like an attempt at sketches all interlinked to try to create a story about British class. We glean nothing from the swots school life apart from they read women's magazines and listen to Christian choral vinyl. Homoerotic tones are blatant throughout even with brief flirtations (and rejections) from the couple of females who keep it from spilling over into a male love-in.
This blend of post war surrealism could be cuttingly sharp on its message, and probably was upon release, but nowadays it seems only to connect to those who have come through the halls of Eton and the like. Social (media) relevance to working classes is many a school playing field away here.
McDowell's dynamite debut performance is as angsty as needed to be before biting the bullet into full-blown anarchistic. He spits out sarcasm without a moment's thought for those who don't understand it. He is the one constant in the film, an enigmatic screen presence that reveals in the situation of being brought up middle class toff.
If…. might have something to say about the British class system and its boy's club mentality. Yet for those who were not brought up via that school system it will lack any physical or emotional scares that create a teenage connection. If you want to see rebellion watch The Young Ones.
Extras:
Audio commentary with film historian David Robinson and actor Malcolm McDowell. Over two hours of extensive interviews with the cast, crew and producers. Two original trailers for the film. Also three of director Lindsay Anderson's short films. There is a 56 page booklet that has new writing on the film and a self conducted interview with Anderson. It's a large package for such a cult film.
Mark has awarded If (1968) on Blu-ray two Torches of Truth