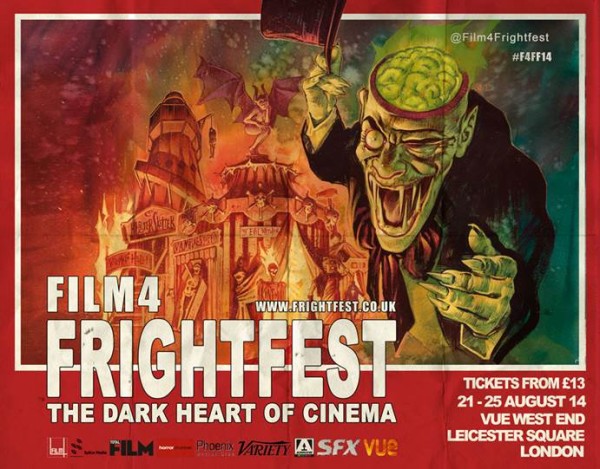 Film4 FrightFest aka every horror fans Black Christmas come early today revealed the full programme for 2014's festival. A record 64 films will be screened over five days, with 13 world premieres and 38 UK & European premieres. Opening the fest is Adam Wingard's psycho thriller, The Guest, and the closing night movie is sci-fi fantasy, The Signal.
Horror movie lovers are in for a treat as Eli Roth's The Green Inferno resurrects the Italian cannibal sub-genre, Robert Rodriguez and Frank Miller bring us Sin City: A Dame to Kill For, and Julian Maury and Alexandre Bustillo pitch up with their new work, Among the Living. Elsewhere, festival favourite Lucky McKee brings his fun-tastic horror-comedy, All Cheerleaders Die, and outback lunatic, Mick Taylor (John Jarrett), returns for another game of Head on a Stick in Wolf Creek 2. Not to mention the much-talked about film, The Babadook.
Film4 FrightFest this year has moved from its old home at the Empire Theatre a few doors down Leicester Square to Vue West End. Festival co-director Alan Jones has acknowledged the challenge in changing venue and the planning that went into the festival's line-up:
"Everything genre-wise you've been hearing about – and a whole lot you haven't yet – has been included in the programme to ensure our move to the Vue will be the most exciting and game-changing genre event of the year. Humbly, we cannot overestimate how much work has been done by Team FrightFest in planning this move in every detail to ensure your complete satisfaction with the venue arrangements, the operating duties and the comprehensive multi-levelled programming. While everything looks to be changing, nothing is fundamentally changing in terms of retaining our unique, all-inclusive atmosphere and the wellbeing of everyone who attends."
For the full exciting line-up check out FrightFest's official website: www.frightfest.co.uk
Festival & day passes go on sale from 28 June. Tickets for Individual films are on sale from 19 July. Screens 5, 6 & 7 will house the main event while the Discovery strands will play in Screens 3 & 8.
Bookings: www.myvue.com
08712 240 240 (24 hour booking line)
We'll keep you informed of any updates and developments in the lead up to the festival.
Source: Clout Comms & FrightFest