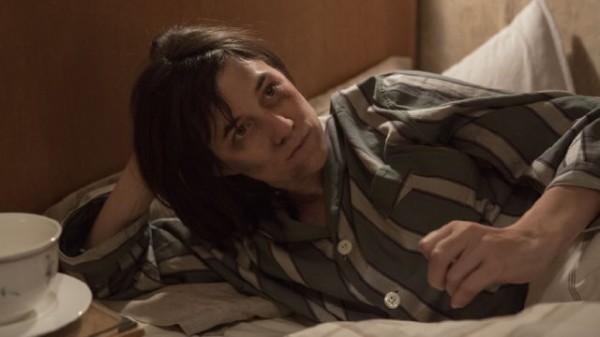 With a title such as Nymphomaniac, writer/director Lars von Trier's latest film is clearly, some might say cynically, named to pique the interest. As with Tarantino's Kill Bill Vol 1 & 2, von Trier's Nymphomaniac Vol. I & II are to be taken as one extended piece of work broken up for convenience into two parts, due to their combined bum-numbing running time of four hours and one minute. The story is that of Joe, the elder and younger Joe played by Charlotte Gainsbourg and Stacy Martin respectively. Found beaten in an alleyway by a kind passer-by Seligman (Stellan Skarsgård), Joe tells him her story through a series of chapter titles; her life, a story of being a self-aware nymphomaniac and her descent into the darker aspects of sex addiction.
The film is beautifully crafted with an unique twist to the soundtrack choices. As well as the ever reliable Skarsgård, the questioning, non-judgemental Seligman, Gainsbourg as a von Trier veteran gives a contained performance with Martin in her debut role, capturing the loneliness and searching nature of the open and enigmatic Joe. There are noteworthy turns by Uma Thurman as Mrs. H in Vol. I as a wife with three children having just been left by her husband for the younger Joe, and Christian Slater as Joe's father in a performance which might be declared to be his best for a long time. Though affecting an odd combination of an Australian and English accent, Shia LaBeouf is also elevated as Jerome; a character pivotal in Joe's life, who appears questionably often throughout her story.
Vol. II takes up the cliffhanger with which we are left at the end of Vol. I, making a turn towards the sadomasochistic with real force, through Jamie Bell's character K. Willem Dafoe as L allows for plot points that pushes more towards the questionably convenient but then again Joe's story is continuously signalled as not being entirely reliable.
Nymphomaniac Vol. I & II are filled with characters that are not easily sympathised with, which is not an issue in itself but there is also precious little joy or humour throughout the film: after a time, the relentless pessimism and confusion of Joe can wear the viewer down. However, the film does offer much opportunity for debate, with an ending left open to interpretation. Though the sex in Vol. I is explicit, it manages to not to be particularly erotic, which, given the subject matter, must be classed as a selling point.
Extras:
Vol I: Individual interviews with Gainsbourg, LaBoeuf, Martin and Skarsgård talking about their involvement in the project which is thoughtful and illuminating.
Vol. II: London Q&A hosted by Edith Bowman featuring Skarsgård, Martin and Sophie Kennedy Clark, who plays Joe's childhood friend B. The Q&A is filled with actorly praise of the director and of how he approaches his work.
Mairéad has awarded Nymphomaniac Vol. I & II on DVD three Torches of Truth