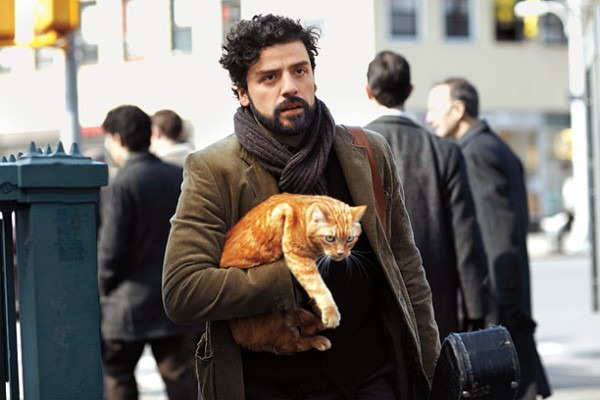 The Coen Brothers latest offering, Inside Llewyn Davis, asks the wistful question that many (struggling) artists will have to ask themselves at one point; whether they are going to persevere, or consign their art to the back burner to get a 'real' job. For Llewyn Davis (Oscar Isaac) a folk singer working the Greenwich Village circuit in 1960s New York, there seems to be no choice, despite what the world is conspiring to tell him.
Once part of a promising duo, ended by his music partner's suicide, Llewyn plays in fleapit joints for little financial reward, his life has become a succession of couch-dwelling favours and ill-timed decisions. He is stubborn to the point of foolishness, has all but alienated his friends and his one time lover Jean (Carey Mulligan) is frustrated with his muted self destructive nature, remarking that he is 'King Midas' idiot brother.
On the surface, Llewyn does not fit the mould of the lovable loser that we would usually root for, yet it is his unfaltering commitment to non-conformity that provides a bittersweet connection to our anti-hero as the film unfolds. In one scene, his sister hints to Llewyn that he should quit the music to which he replies 'So I should just exist?'; a feeling that will resonate to anyone with a passion that will not diminish.
The Coens create a canvas of contrasts from the intimacy of the warm hued folk scene to the harsh realities of a cold New York winter, through which Llewyn treks without a winter coat on his back. The film perfectly captures the turning point between the old establishment and the imminent arrival of the counter culture, intentionally looking at things like the cover of a Bob Dylan album.
The film is peppered with the usual Coen humour and sly grin inducing casting/cameos from Justin Timberlake and Adam Driver to Coen stalwart John Goodman, yet it may be their most melancholic film to date. A recurring motif with a ginger cat is both amusing and quietly devastating, perfectly summing up Inside Llewyn Davis: beautiful and brooding, a film that creeps up on you and tenderly breaks your heart.
Extras: A charming 'making of' titled Inside Inside Llewyn Davis. It dwells heavily on the soundtrack created which was performed live in the film, which is integral to its authenticity.
Linsey has awarded Inside Llewyn Davis on DVD five Torches of Truth