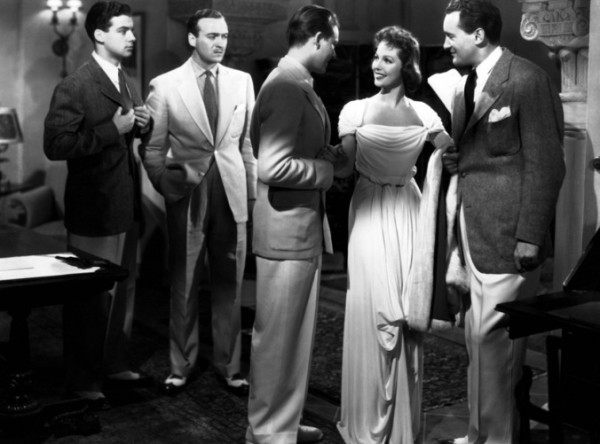 Featuring early roles for David Niven and George Sanders, the brisk drama Four Men and a Prayer (1938) proves most notable as a stepping stone for director John Ford. Released in 1938, the film came one year before his trifecta of Oscar-nominated successes in 1939 (Stagecoach, Young Mr. Lincoln, and Drums Along the Mohawk), two of which saw the real start of his dabbling in westerns, the genre that seems to dominate discussion of his career now.
Four Men and a Prayer, an adaptation of a David Garth novel, opens with Colonel Loring Leigh (C. Aubrey Smith) being dishonourably discharged from the British Army for having issued an order that allowed munitions to be brought to a tribe that were then responsible for massacring Leigh's own troops. He intends to show his four sons evidence that these orders were issued by someone else, a person working with a munitions syndicate that forged the go ahead. His sons include Geoffrey (Richard Greene), who works at the British Embassy in Washington, aviator playboy Christopher (Niven), London barrister Wyatt (Sanders), and Oxford student Rodney (William Henry).
Before being able to show the evidence, Leigh dies from a gunshot in a chair at home. The press declare it a suicide, but his sons suspect murder and seek to clear their father's name and bring justice to his killer. A sprawling saga ensues across Britain, the USA, India, South America and Egypt, with a rich American society matron (the top-billed Loretta Young) being one of several key figures who become entangled in the boys' quest.

The film is served well by a game, charming cast, and Ford's snappy direction aids the brisk narrative; some hard-hitting moments of graphic violence also stand out, including a bridge of people being cut down by machine gunfire. That being said, the story itself never proves all that interesting despite the impact of certain individual scenes.
An irksome attribute of the film is how it makes light of British imperialism, and only makes the occasional comment against the arms businesses causing misery for those the narrative largely whitewashes. As appealing as some of the characters can be, it's difficult to fully get behind a tale, framed against backdrops of noticeable turmoil, in which restoring the honour of a wealthy, respectable British family is depicted as the most important thing above all.
No Extras

.
Josh has awarded Four Men and a Prayer (1938) on DVD three Torches of Truth