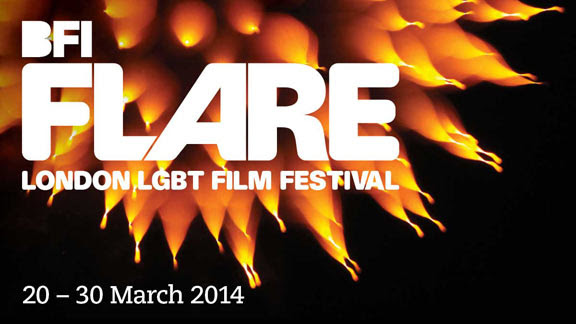 BFI Flare 2014 (formerly the London Lesbian and Gay Film Festival) continues apace with an inviting array of fresh narrative and compelling documentaries. Below are short reviews of Croc-A-Dyke Dundee, The Legend of Dawn O'Donnell; C.O.G.; Slovenian film Dual; Swiss film Rosie; documentary Kate Bornstein is a Queer and Pleasant Danger and Test. BFI Flare 2014 continues until 30 March.
Croc-A-Dyke Dundee, The Legend of Dawn O'Donnell (Director: Fiona Cunningham-Reid)
Dawn O'Donnell was always going to be a legend. Her determination landed her in convent school, then sent her to London and Paris to be a professional ice skater. It also sent her to Amsterdam to get married a second time, a time and place when same sex marriage wouldn't be legal for another twenty years. When the skating wasn't an option any longer she found other passions. The only mistake O'Donnell admits to in the duration of the documentary was her first marriage, to a man, which lasted only two months.
Much was made of the fact that she formed partnerships with dodgy businessmen to open her various drag shows, nightspots and adult toy shops but I guess the laws of Australia didn't mean that much to her. Why should it? She was an outlaw by virtue of the fact that she loved women.
55 minutes was long enough for this slightly cobbled-together documentary, any longer and it would have outstayed its welcome. Dawn knew when to leave a party (she finally left the party in 2007 after her second battle with cancer) and the documentary about her life follows suit. Lots of interesting interview footage from the legend herself and those who are proud to have known her.
C.O.G. (Director: Kyle Patrick Alvarez)
A young man (Jonathan Groff) is on a very long coach journey across the US, beset by immoderate and hostile people on each leg of his journey. The most relevant to this story is a man who reveals himself to be a devout christian. 'What's your problem with the bible'? He asks the young man. The young man answers: 'It's poorly written'. This barb sets the tone for the rest of the film and the start of the young man's journey which will, surprisingly, bring him to Jesus. Sort of.
C.O.G., adapted from an essay by David Sedaris, is mesmerising from the very first moments, even before we even have much of an idea who the man is and where he is going. David (or Samuel, his assumed name) finished university and in the absence of a better offer, he and a friend both signed up to pick apples on a farm in Oregon. The friend bogged off to San Francisco instead. David's loneliness is palpable but the lonelier he gets, the more aggressive the people he meets seem to be.
There are many amusing and startling moments within C.O.G. but the overriding emotion by the end of the film is despair. David doesn't seem to get any answers about his life except that he definitely shouldn't believe in the good in people. Jonathan Groff is excellent as the proverbial lamb to the slaughter.
Dual (Director: Nejc Gazvoda)
Incredibly hopeful, sweet, insightful, warm. An obvious comparison would be Before Sunrise, only it's girl (Mia Jexen) meets girl bus driver (Nina Rakovec). However, the film should not be reduced to one part; the budding relationship between the two women is one part, another part is Tina's friend Matic, another part still is Tina's family. There is underlying pain but mostly everyone is very good at hiding it.
The time the two girls share when wandering around Tina's hometown makes for engaging viewing; they learn about each other and their different languages (Iben is Danish and Tina Slovenian), both acknowledging the barrier but overriding it with goodwill and the flush of a new relationship.
The film begins and ends with a haunting song called Cold Hearts by Danish band Monkey Cup Dress, bringing a beautiful symmetry to the whole thing. Director Gazvoda said that he had wanted to tell the tale of his (our) generation. And that is what it is, just people trying to make their way in the world, in difficult times. The two women have great chemistry and the subjects addressed cannot dent the inherent good humour of this film.
Rosie (Director: Marcel Gisler)
Rosie (Sibylle Brunner) is the biggest character you would have been likely to see on the big or little screen in recent times. She collapses in her flat in Switzerland while watching a report on her son Lorenz' (Fabian Kruger) successful literary career and the next thing we know, she is in hospital and Lorenz (and his sister Sophie) are standing by her bedside. Lorenz doesn't want to give up his busy Berlin lifestyle and Sophie (Judith Hofmann) does not want to give up her complicated life of failing marriage/training course at work to look after Rosie. This immediately gives you the sense of longstanding discord and competition between the two siblings; a result of misunderstanding, secrecy and a touch of jealousy. Sophie also blames her mum for her dad's unhappiness.
Needless to say, it's all a lot more complicated than anyone (except Rosie) realises. To add a further complication, Lorenz sleeps with a young friend of the family, Mario (Sebastian Ledesma), making the mistake of dismissing his helpful nature as slavish, immature fan-dom.
There is one word for this subtitled/Swiss-German language family drama: Amazing. The characters are all so richly constructed, so resoundingly three-dimensional that you are utterly drawn in and feeling everything with them. The best film I've seen in ages.
Kate Bornstein is a Queer and Pleasant Danger (Director: Sam Feder)
Kate Bornstein is a divisive figure on many levels but is an exciting, inspiring and compassionate individual. I can't believe that I have lived this long without hearing that name. The name of the documentary, Kate Bornstein is a Queer and Pleasant Danger, is based on the name of Kate's memoir which discusses life achievements but mostly focuses on life, death and everything in between: obviously including that thorny subject of gender.
Kate was born to a Jewish family in New Jersey in 1948 as Albert Bornstein but underwent gender reassignment surgery to become Katherine in 1986. Kate had always wanted to be a woman and post-op admits to spending a lot of time with 'clever lesbians' who quickly dispelled that notion; 'you think that snip-snip and suddenly you're a woman?!' Cue years and years of studying and book writing on the subject of gender theory, work which has not been wasted.
It is easy to see why Kate is a divisive figure; Pope Benedict felt that Kate's books were worthy of banning and some fellow transsexuals feel that many of Kate's contributions to public life are 'almost transphobic' (Kate openly refers to self as tranny) but all that comes across during this 82 minute documentary is the extent of Kate's spirit and need to help others wade through the sludge of life. Kate's pain and humour are equally accessible: the recent cancer struggles, book 'Hello Cruel World…' written with confused and hurting youngsters in mind, the candid nature of confessions about daughter Jessica (she was born while Kate was still Albert and a Scientologist so they have no contact), it all adds up to actually wanting to call Bornstein 'Auntie Kate' – a title which we are almost implored to use.
Test (Director: Chris Mason Johnson)
It's San Francisco in 1985, the opening captions tell us that the blood test for HIV has just been formulated and that the general populous has no idea how the virus is transmitted. These two facts add up to a rather tumultuous time for dancer Frankie; he is only just breaking through into the main dance show and is happy enough with his life of dance and casual sex partners. All of a sudden he is spending a lot of his time worrying about having HIV; examining his body for the telltale purple lesions and wondering if his dizziness is another unknown symptom. Frankie finally takes the test and adjusts to his new life of awareness, contemplating a monogamous relationship.
The film is quite detached, as if we are viewing San Francisco and the homophobic newspaper headlines from far, far away. Test is set in what feels like a stylised version of 1985 (darn those twisty telephone cords and aren't Walkmans just the best thing ever??) but does have a great score. Frankie seems like a rabbit caught in the headlights, not quite knowing what to do, and maybe that contributes to the film's standoffish nature. There are cute moments that offset that distance a little, especially the condom scene ('these are going to end sex forever') and the other dancers commiserating with Frankie after he was told to dance like a man by the dance group director. A bit lukewarm but has merit as a character study.
BFI Flare 2014 continues this weekend.