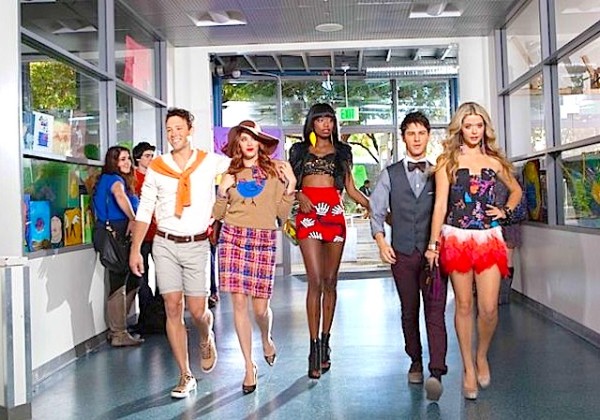 Oh, the talk about this film promised so much; prom queens fighting amongst themselves to obtain that ultimate accessory – an accessory decided upon arbitrarily by a magazine, of course – fashionable bag-loads of zingy one-liners and the required references to other high school films which have glided in slow-motion along the polished linoleum over the years. Does it deliver? Does Lindsay Lohan have a fetching collection of clunky black angle tags?! The answer, of course, is yes.
Tanner (Michael J. Willett) is a self-confessed comic book geek and spends most of his time with his best friend Brent (Paul Iacono), the two of them living firmly in the closet. His opening scene narration tells us that no one has ever come out at their high school and that no one is dying to be the first to do so. Problem is, there are two sets of school ladies who want, nay, need to find that elusive first homosexual; the Gay Straight Alliance (GSA) and the wannabe prom queens 'Shley (Andrea Bowen), Fawcett (Sasha Pieterse) and Caprice (Xosha Roquemore), who need a Gay Best Friend (G.B.F.) to endorse their claim to the crown. The GSA successfully manage to out Tanner and Fawcett, Shley and Caprice pounce without a second thought. The results are extremely funny, endearing and full of comment on commonly held stereotypes.
Director Darren Stein (Jawbreaker) and writer George Northy have done very well with this little gem. It's clever AND makes you feel all warm and gooey inside. Filled with performances from the prom queens, teachers (including Natasha Lyonne) and one very supportive mother (Megan Mullally) that consistently hit the right note, we are kept out of a possible sugar coma by the frequent jibes, especially at the over-the-top religion fiends.
G.B.F. certainly has a place amongst the best of high school films and most definitely earns a slot amongst that other most select group of films: the Sunday hangover favourites.
BFI Flare 2014 runs 20-30 March. Details here
Maryann has awarded G.B.F. four Torches of Truth