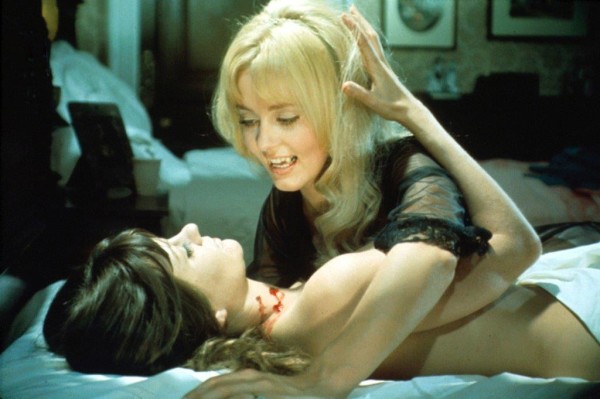 Last month we gave you the skinny on Horror Channel's rather ace decision to run a month of Hammer horror double bills on consecutive Saturday nights. Well, we've got an update for you: there's going to be more Hammer films screened throughout March!
Kicking things off is John Gilling's fabulous The Plague of the Zombies (1966), a film that not only influenced Lucio Fulci but it has also been claimed by Hammer expert, Jonathan Rigby, to be the studio's most faithful adaptation of Bram Stoker's Dracula – it makes for a very cool reading. The Cornwall-set tale of voodoo and the living dead starts at 21:00pm. If you like your swash buckled then following immediately after TPOTZ is Captain Kronos – Vampire Hunter (1972). Definitely one for Caroline Munro enthusiasts!
Saturday 8th March gives us another Gilling-directed classic with The Reptile (1966) and that's joined by Quatermass and the Pit (1967).
15th March sees the late Joan Fontaine (in her very last big screen appearance) fighting witchcraft in the English countryside, a film that foreshadows, somewhat, The Wicker Man (1973). Joining The Witches (1966) for a bit of Saturday Fright Fever (please forgive that pun) is Demons of the Mind (1972).
Out of the blocks on 22nd March is Dr. Jekyll and Sister Hyde (1971), a film directed by Roy Ward Baker and starring Ralph Bates. And vampire lovers will definitely want to check out Jimmy Sangster's Lust for a Vampire (1971), which makes up the second part of the loose 'Karnstein trilogy' (based on J Sheridan Le Fanu's Carmilla novella and completed by Ingrid Pitt's classic, The Vampire Lovers, and Twins of Evil).
As ever with Hammer's reworking of the nosferatu mythos, Frankenstein's monster is never far behind and a week later we get The Horror of Frankenstein (1970) (on 29th March), which is paired with Christopher Lee in one of his most famous roles of all (after Count Dracula): Rasputin the Mad Monk (1966).
So if classic British horror is your thing, Horror Channel's ace roster of March double bills should do it for you. All the films start at 21:00 with the next feature kicking off immediately afterwards (that's the double bill part).
For more info on Horror Channel check out their website: horrorchannel.co.uk
Source and header image: Clout Comms