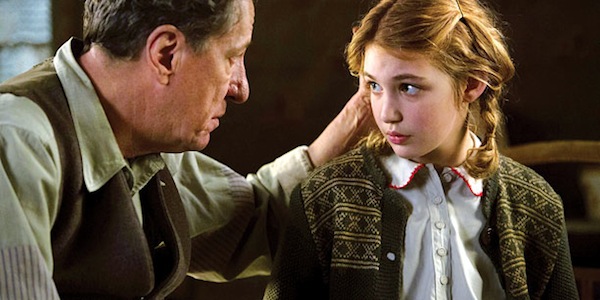 World War II stories are now a near genre in and of themselves in literature and cinema. However, with The Book Thief, director Brian Percival takes Michael Petroni's adaptation of Markus Zusak's original novel and allows for a fresher perspective on the war: that of ordinary German people living through the Nazi regime.
Narrated by the ever present figure of Death (Roger Allam), the book thief of the story is Liesel (Sophie Nélisse) who is adopted by a childless poor couple Hans (Geoffrey Rush) and Rosa (Emily Watson). Liesel is a casualty of a Nazi regime promoting the adoption of children considered suitably Aryan into German families and she struggles to adapt to her new surroundings, with the film often taking her perspective on the changing world in 1938 Germany and the following war.
Significant historical events such as the terror of Kristallnacht, the burning of books and the declaration of war in 1939 are all shown through the domestic lives of the three leads and the impactful consequences they must wrestle with. Pre-Nazi Germany and how society changes over this period is introduced through the family's reaction to hiding Max (Ben Schnetzer), a local Jewish man.
The Book Thief has Oscar-baiting beautiful cinematography complimented by orchestration that is designed to swell the emotions. What saves the film from a generic Oscar attempt are the performances; Sophie Nélisse as Liesel has deep pools of talent that matches the well-measured and seemingly effortless efforts of both Rush and Watson. To give the film more of an authentic German feel, the cast switch between German and English maintaining soft German accents.
The Book Thief weaves a consistent thread of humanity through its narrative via the commonality of Death, storytelling and the concept of free will. The disturbing sight of children in Hitler Youth uniforms and Allied blanket bombing, when shown through the innocence of a child, humanises the German generation just living their lives without the hindsight of history. A blurring of vision due to tears is to be expected but that effect is delivered with respect and dignity to the audience.
Mairéad has awarded The Book Thief four Torches of Truth