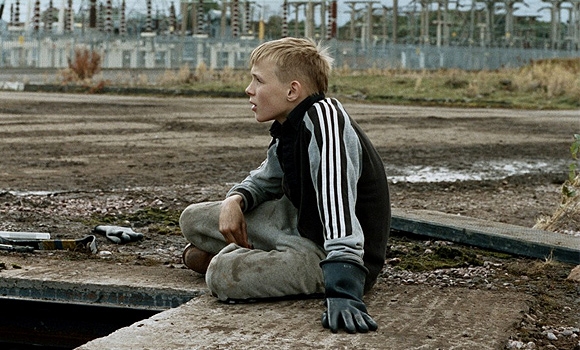 The release of Clio Barnard's bruising, experimental docu-drama The Arbor in 2010 saw the arrival of a potentially major new voice onto the British film-making landscape. With The Selfish Giant, one of last year's finest films, Barnard cemented that potential, delivering her second striking and accomplished feature length effort. 
Based loosely on Oscar Wilde's short story of the same name, The Selfish Giant is a tough and visually symbolic tale of life on the margins of contemporary British society. Barnard's allegorical fable sees teen misfits Arbor (Conner Chapman) and Swifty (Shaun Thomas), the former cocksure and spiky the latter more introverted and gentle, selling scrap metal to  brutish and unscrupulous local scrap merchant Kitten (Sean Gilder). The products of dysfunctional families, an education system that is failing them and an environment of urban deprivation, Arbor and Swifty quickly take to the easy money their venture offers. Amid a social realist milieu of run down northern council estates, bleak landscapes and spiritually corrosive poverty, Barnard weaves a narrative that is, unsurprisingly, harsh and tragic, but also one that is touching, lyrical and littered with caustically funny dialogue.
On paper, Barnard's movie could appear to be nothing more than a misery-fest, but it's so much more than that. The tensions between youth and adulthood, loyalty and betrayal and  actions and consequences are richly investigated in the narrative as the bond between Arbor and Shifty is strained by greed, familial angst, Kitten's over-bearing influence and the pair's own individual psychological make ups. A sense of impending tragedy pervades throughout, and when it eventually arrives the shock is no less powerful for its inevitability.
Arbor and Shifty, characters inspired by real life youths Barnard came into contact with, are memorably portrayed by newcomers Chapman and Thomas, with the more experienced Gilder, Lorraine Ashbourne and Steve Evets providing sterling back up. In lesser hands, The Selfish Giant could have been a one note movie that added little to the Social Realism genre. With Barnard's keen artistic eye, ear for dialogue and non-judgemental tone, however, the film transcends genre conventions and resonates on multiple emotional levels.
Extras: 
A fairly sparse selection of extras features interviews with Clio Barnard, Connor Chapman and Shaun Thomas and an alternate ending which is not radically different to that seen in the film. Barnard provides interesting information into the film's conception and its two young leads offer insights into their own lives and how they took to playing their respective characters. The lack of a director's commentary is a real shame as the articulate Barnard would, I'm sure, have made for an engaging guide through the film.
Neil has awarded The Selfish Giant on DVD four Torches of Truth