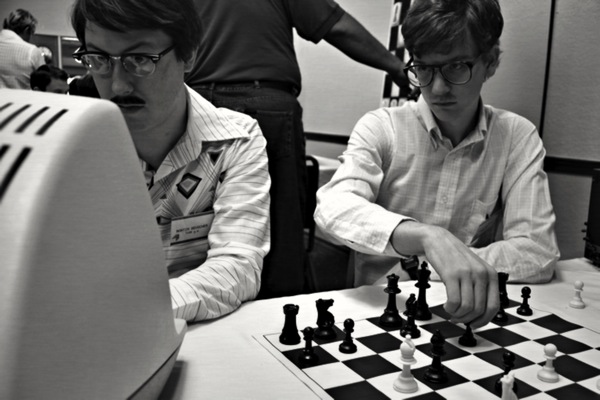 The latest film from director Andrew Bujalski is an eccentric, ultra lo-fi mockumentary centred on a tournament for computer chess enthusiasts. The competition aims to find the best computer chess programme with the victors also getting the chance to take on an as-yet unbeaten chess grandmaster. The attendees are all suitably socially awkward and the film starts out as a comedy focusing on these characters and their unique hobby.
Computer Chess was shot on black and white analogue video and the resultant fuzzy footage creates a surreal atmosphere that only serves to heighten the bizarre events playing out in a bland hotel. Bujalski's film feels like an authentic snapshot of early-80s computer geekdom and has achieved this with clever use of antiquated equipment.
The cast of characters are a strange bunch from the outset but things only get weirder as the tournament goes on and the programmers face malfunctioning software, fraying tempers and an apparent infestation of cats. One stand-out character is Michael Papageorge (Myles Paige), a confrontational and slightly unbalanced programmer who seems to unravel before our eyes as the weekend progresses.
Around the midpoint, the film takes a turn away from quirky comedy and becomes something slightly more sinister. Shy and retiring programmer Peter Bishton (Patrick Riester) begins to tinker round with his faulty system and he and his colleague Martin Beuscher (Dazed and Confused's Wiley Wiggins) make some worrying discoveries that seem to suggest the emergence of early artificial intelligence.
The deadpan comedy and retro aesthetic are a definite joy and the sci-fi elements woven into the story are an interesting touch, but the film does still feel a little disjointed. Some of the stranger happenings in the hotel, such as a couple searching for a third wheel to share their bed and a religious support group holding meetings in the same building, don't quite fit in as well as the rest of the material.
However once we are back to the tournament itself and the focus is back on these determined nerds and their increasingly surreal rivalries and relationships, Computer Chess exudes a peculiar charm and develops a slightly unsettling ominous tone. Extremely idiosyncratic and deliberately awkward, it's an imperfect but oddly enjoyable indie comedy.
Extras
A series of trailers, promotional videos and interviews featuring Bujalski and Wiggins.
Rob has awarded Computer Chess three Torches of Truth