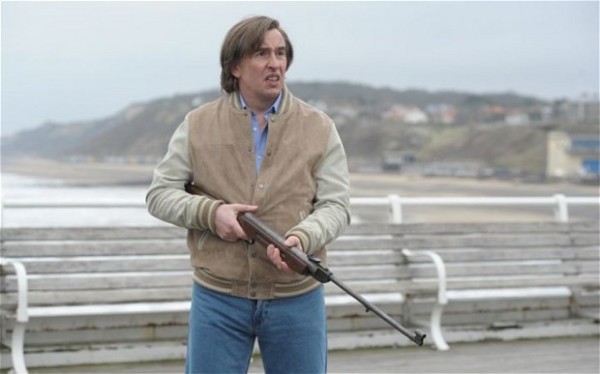 Parody personas such as Alan Partridge have commanded somewhat of a niche film audience and with cinematic joys such as Keith Lemon: The Film about, that niche audience might in time dwindle even further. Though whether that is to do with the predicted quality or the actual quality of the films remains another matter. Alan Partridge: Alpha Papa may not have garnered the same box office attention of the 'comedy' blockbusters but that makes it no less enjoyable. Especially so, if you're sitting at home with your cosy socks on and refreshing beverage of choice in hand.
Alan Partridge is now one of the star DJs on North Norfolk Digital radio station and during a station takeover finds himself in the middle of a heated dispute between the incoming company of know-it-all media executives and fellow DJ Pat Farrell (Colm Meaney). Alan Partridge is: 'Siege Face'. Shotguns and head handles aside, Partridge revels in the warm glow of the public and police attention and doesn't want it to end. But end it must, before more than his career goes down the toilet.
Steve Coogan clearly worked his behind off to bring Partridge to the big screen; the quips and cheesy jokes are always at least mildly amusing and delivered with an extremely straight face. Obviously writers Gibbons x 2, Baynham and Iannucci, and director Declan Lowney also had something to do with the successful return of Partridge, since the droll narrative flows so smoothly and leaves us guessing how it will all end. Colm Meaney's laconic style serves him well in this role as Pat Farrell, a DJ scorned. Plenty of the other actors also provide good value, especially Michael the Geordie (Simon Greenall) who seems to steal the show each time he's on screen.
Alan Partridge: Alpha Papa is excellent DVD fare. Good old fashioned disposable and distracting fun that you can go back to more than once.
Extras : We have documentary Hectic Danger Days: The Making of Alpha Papa, which is definitely worth a watch to see how they did some of the stunts, if nothing else. The deleted scenes shed some light on the other direction that the film might have gone in, with a slightly bigger role for Lynn Benfield (Felicity Montagu) and her big hair. There is also the obligatory audio commentary from Coogan and writers Rob and Neil Gibbons for the die-hard Partridge Fans.
Maryann has awarded Alan Partridge: Alpha Papa on DVD four Torches of Truth