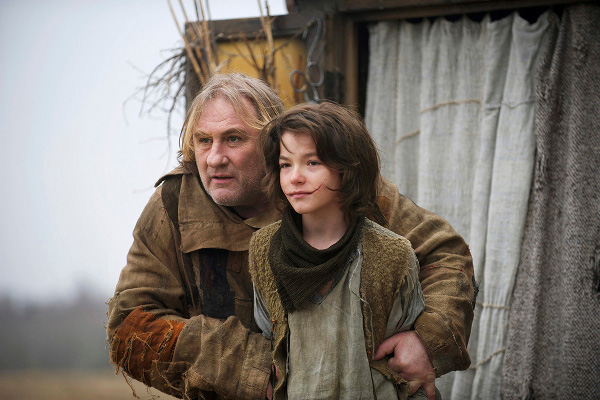 Handsomely crafted by writer/director Jean-Pierre Améris, whose last film was the Capra-esque confectionary comedy Romantics Anonymous (2010), this Victor Hugo adaptation about an adopted family of circus travellers is a unfortunately prosaic and dull fantasy.
Gwynplaine (Marc-André Grondin) and Dea (Christa Theret) are rescued one night by the gruff, portly medicine man Ursus (Gérard Depardieu), who turns their disfigurements – the boy's face is sliced into a permanent grin, and the girl is blind – to the family's advantage, crafting stories of romance for the pair to perform in stage shows across the land.
They pull up one night on the outskirts a shanty town, whose circus looks not unlike the Bergman-esque fairground of Woody Allen's Shadows & Fog (1991) – of course, that film's heavy German Expressionist influence is important too, for the definitive screen adaptation of The Man Who Laughs remains Paul Leni's 1928 expressionist masterwork, the most tragic and horrifying version to date.
Améris's visual style is sadly too bland, and nakedly emulous (Tim Burton is a touchstone throughout, but never more so than when the action moves to a great castle), to inject the story with the necessary passion or sense of doom – a classic of 19th Century literature, Hugo's novel is sweeping, romantic and detailed on issues of class division (the narrative has been hugely stripped for this adaptation).
Grondin (also wonderful in the underrated C.R.A.Z.Y.) and Theret (last seen as the best thing in Gilles Bourdos's Renoir) are great, and a hammy turn by Emmanuelle Seigner livens up proceedings, but sadly the film feels as lazy and bloated as Depardieu's turn, never capturing the vital and cinematic essence of its source, and fails to create its own visual and narrative identity.
The Man Who Laughs is showing on 16 November at Cine Lumiere, 17 November at Glasgow Film Theatre and Edinburgh Filmhouse and 4 December at Aberdeen The Belmont.
  Michael has awarded The Man Who Laughs two Torches of Truth