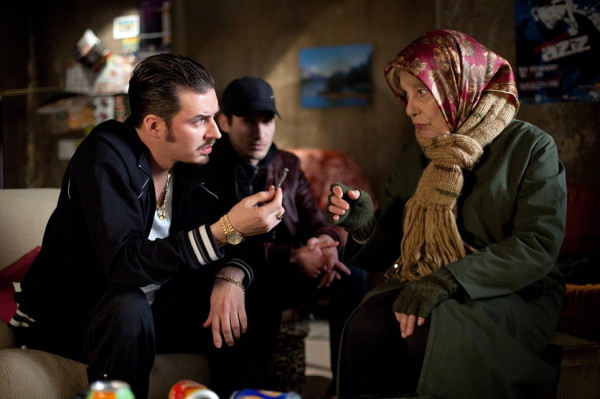 Starring New Wave legend Bernadette Lafont [Le beau Serge (1958) La maman et la putain(1973)] in her last leading role, Paulette is an uproariously non-PC baking-and-drugs farce from director Jérôme Enrico, and if that hasn't sold you, what will?
Lafont plays the titular Paulette, a cantankerous and unashamedly racist grandmother still reeling from the death of her husband, Francis; their life together is glimpsed in a beautiful, 8mm opening montage.
Bankrupt and companionless in a seedy council estate, Paulette starts dealing drugs to make ends meet, but agitates a local gang who beat her up and steal her stash. It's then that she has the bright idea to fall back on her old baking trade and, under the moniker Granny Junkie, starts making "space cakes"…
Lafont is perfectly cast as the craggy Paulette, boasting that twinkle of the eye which defined her earlier roles, especially the cheeky and promiscuous Marie of Claude Chabrol's Le beau Serge, a character she seems to invoke several times here. With glorious abandon she embraces the taboo opinions and foul language of Paulette ("jigaboo" is the nickname for her mixed-race grandson), and in the all-out ridiculous finale, which finds her sticking up a gang with an assault rifle, it's clear that she's having the time of her life.
The film is entirely disposable of course, but for the time that you're watching it it's hard not to be charmed by a filmmaker playing defiantly by his own rules, and equally creating and offbeat character whose foibles are not only hilarious but human in a way which is genuinely surprising and, in the end, heartwarming.
Paulette is showing on 09 November at Edinburgh Filmhouse, 10 November at Kirkcaldy Adam Smith Theatre, 15 and 17 November at Cine Lumiere and 25 November at Glasgow Film Theatre.
 Michael has awarded Paulette three Torches of Truth