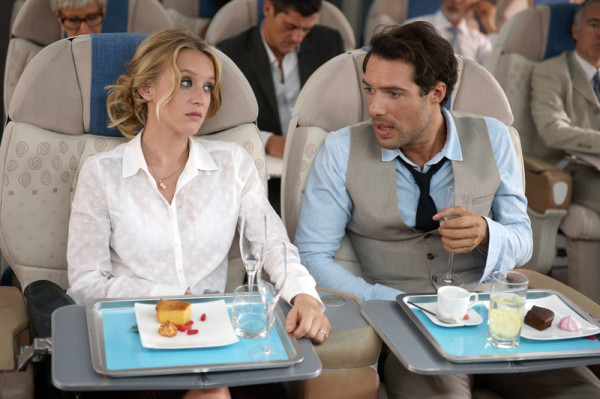 Meeting on a plane from New York to their mutually native Paris, artist Julie (Ludivine Sagnier) and lawyer Antoine (Nicolas Bedos) are seated next to each other for the seven hour flight home. The coincidence of their unexpectedly seeing each other again three years after their relationship ended frames this Romantic-Comedy. Forced to face their past together, the story of their former relationship is told from both sides as their fellow business class passengers are pulled into their conversation.
Light and funny on the surface, Alexandre Castagnetti's Love is in the Air has a clear undercurrent of the difficulty or turbulence that is part and parcel of being in a relationship. Jealousies with misunderstandings can create sabotaging friction as love exposes the fear-filled vulnerabilities of both Julie and Antoine.
Sagnier and Bedos have genuine chemistry and create rom-com drama that manages to ring through and isn't sickly sweet. An easy watch, Love is in the Air may not be the most memorable of films but it does pass the time pleasantly, a bit like a decent film on a long haul flight.
Love is in the Air is showing on 22 November at Inverness Eden Court and 25 November at Edinburgh Dominion.
Mairéad has awarded Love is in the Air three Torches of Truth