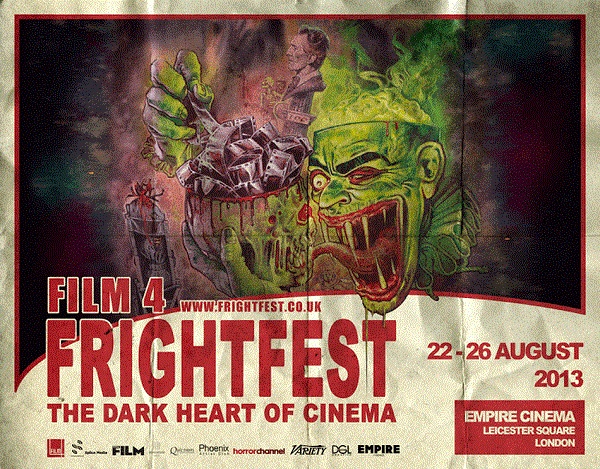 Film4 FrightFest runs from 22nd – 26th August. It's five glorious days of horror movie heaven. Movie maestro Guillermo del Toro labelled the event as the "Woodstock of Gore". This year sees the festival get super ambitious with more titles than ever before (there's 51) and the addition of an extra screen and repeat showings of select titles.
Whether you're a festival regular or newbie dipping your toe into the warm waters of horror appreciation, you'll want to read this guide – I'll play Virgil to your Dante – so that you get the full lowdown on this year's programme and any helpful tips along the way. Be excited. Be very excited.
The Opening Film
Kicking things off is the world premiere of The Dead 2: India (Thurs 22nd, 18.30). The Ford Brothers' first zombie apocalypse shocker, The Dead, was gorgeously photographed and came across as a rather endearing love letter to George A. Romero and the Italian gore flicks of the early 1980s.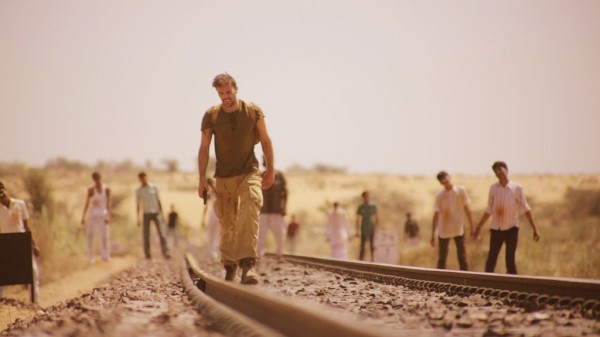 In a movie world where the living dead seem to sprint faster than Usain Bolt, slow-shuffling deadoids are a welcome sight. The Fords, Howard and Jonathan, set their sequel in India and the film will probably top the first one in terms of its photographic beauty. Opening with an anticipated zombie apocalypse saga is the way to do it.
Film Recommendations:
Rewind This! (screening: Sat 24th 18.15 & Mon 26th, 18.35) is a documentary on the cultural legacy of VHS. Josh Johnson's film is pretty darn cool and looks at various levels of geekdom, collector obsessions and the historical impact of the humble videotape. Another film we've got our mince pies on (Cockney rhyming slang for 'eyes') is V/H/S/ 2 (Fri 23rd, 21.00). After the hit-and-miss affair of the first one, will the sequel up the ante and scares? Look out for our review during the festival.
No One Lives (Sat 26th, 18.00), from The Midnight Meat Train director Ryûhei Kitamura, is full-throttle crackers with a charismatic turn from Luke Evans. If it's horrid characters dying horribly that you want – that is exactly what you'll get. A fun flick.
Renny Harlin returns to form with found-footage shocker The Dyatlov Pass Incident (Fri, 10.30), Kate Shenton's body suspension doc, On Tender Hooks (Sat 24th, 23.25 & Mon 26th, 11.20), will knock seven bells out of most other horror films at the festival this year. I had to pause my screener several times because I found it so intense. We've also interviewed Kate – so watch out for that very soon on the website.
Elsewhere there's Jim Mickle's remake of We Are What We Are (Mon 26th, 18.30), which I saw at Cannes back in May, and can give it the firm seal of approval. It's not just another lame-o remake, but an entirely different beast all together with an astonishingly gory finale.
Daylight (Fri 23rd, 13.00 & Sat 24th, 10.15) is a found-footage flick that sees a trio of Child Protection Service officers investigating a dodgy small town priest and then discovering something else entirely. Daylight makes up for its low budget with a smart storyline and gripping sense of mystery. Where it starts and where it finishes shows off the level of invention at play.
I'm also very exciting about Marina de Van's Dark Touch (Mon 26th, 11.00). Her 2002 film, In My Skin, was a memorable entry into the French Extreme cycle. Before that debut flick she notably worked with Francois Ozon, on such works as See The Sea and 8 Women.
Other films that look like tasty horror treats: Banshee Chapter 3D (Mon 26th, 13.30), Cheap Thrills (Sat 24th, 23.30), Haunter (Fri 23rd, 18.45) & Willow Creek (Sat 24th, 13.00, Sun 25th, 23.00).
Old Classics
If you fancy some old-school horror, why not see the new digital restoration of F.W. Murnau's Nosferatu (Sun 25th, 18.30)? Also screening is Roger Corman's The Fall of the House of Usher (Sun 25th, 15.20) and Ted Kotcheff's 1970s cult flick, Wake in Fright (Fri 23rd, 23.00). After director Buddy Giovinazzo kindly gave me a ticket to the Bride of Frankenstein restoration at last year's fest, I wholeheartedly recommend sitting down to a restored classic on the big screen. Horror film appreciation is about the past as much as the present.
The Closing Film
This year's closer is Aharon Keshales' and Navot Papushado's Big Bad Wolves, the story of a cop and "vengeful father" who capture a serial killer. One imagines it'll be more than having a "quiet word" on their minds. After the rapturous reception received by their debut, Rabies (2010), there's a lot of anticipation surrounding their next work. It should make a fine finale to this year's festival.
The venue
FrightFest started out at the Prince Charles Cinema, just off Leicester Square. Today it's housed in the Empire cinema, a truly historical building. It's where the Lumière brothers showed off their Cinematograph invention to paying London punters in the days of yore. Well, 1896. Check out the commemorative plaque on the right hand side of the wall as you walk in. The screen in the main auditorium is epic and it's my favourite screening venue in London. Fact.
Some friendly advice!
FrightFest is possessed – non-demonically – with a really friendly environment. Everybody is there to worship at the altar of horror. (Please don't bring any live sacrifices.) The atmosphere is very relaxed and directors often mingle with the crowd. If you see one of your idols go and introduce yourself, you'll likely get an autograph and some nice memories. I met Kane Hodder, back in 2011. He was lovely and had a firm handshake.
Another pointer: You should totally chat to people you don't know. (Unless you're socially awkward like me.) But honestly, horror fans – far from the depraved maniacs that right-wing newspapers portray us as – we're primarily a lovely bunch (on the whole) that just so happen to love watching zombies chow down on living flesh, vampires draining victims of their life- sauce or characters stumbling around in the dark videotaping themselves (2013 is the year of found-footage) and coming up against witches/monsters/ghosts (delete where applicable).
A top tip I'd give is this: Although a lot of the big films take centre stage in the Main Screen, go and check out the aptly titled 'Discovery Screen' because that's where you'll unearth the hidden gems. Back in 2011, FrightFest screened Adam Wingard's marvellous A Horrible Way To Die and who among us (that saw it) can forget the majestic giallo tribute, Amer? Last year saw Buddy Giovinazzo's brilliant A Night of Nightmares unveiled as the bright and shiny gem. The film is still unreleased and therefore a crime against genre cinema.
Don'ts
If you're dying to ask a filmmaker, actor or horror icon a question during the Q&A sessions, please don't go on and on and on and Ariston (now that *is* an old cultural reference). Keep your questions succinct and to the point. You're doing two things: wasting your breath and our precious time. Ask them something surprising and awesome – remember you're in a very crowded room and everybody is listening. So make it memorable!
One of the things the organisers hate more than anything else in the whole wide world is peeps using their mobile phones during a film. They even make 'controversial' idents (remember the kerfuffle about The Pencil last year?) so that you get the message in non-ambiguous terms. 'Turn off your bloody (sometimes 'f**king') phone' is something of a FrightFest mantra. Don't be a see-you-next-Tuesday on this matter or else you'll get F-bombed by an angry audience and feel like a douchebag. Harsh but fair.
Getting food between screenings can put you in a real tight spot. A real tight spot! But don't bring in an entire takeaway banquet into the screening venue and expect other patrons to put up with the pong. Whoever that mentalist was last year – please don't do it again. It's not nice.
Enjoy the festival and remember: "Don't have nightmares".*
Film4 FrightFest runs from 22nd – 26th August at Empire, Leicester Square.
* Catchphrase totally stolen from Crimewatch's Nick Ross.