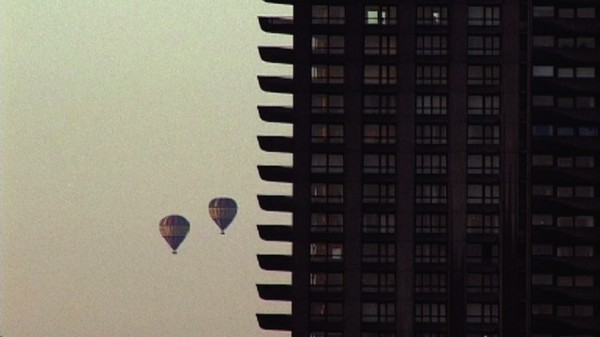 This thematic trilogy are all collaborations between the dance pop band Saint Etienne and filmmakers Paul Kelly  and (on Finisterre) Kieran Evans.
Finisterre (2003), a companion piece to Saint Etienne's album of the same is a mood piece; images and recollections of London set to selections from the album. Essay film is an acquired taste, but Finisterre may win people round. It zooms in on the many great things about London. The sequence of people sitting in a park in Primrose Hill is beautiful, and a night time sequence captures the excitement of seeing a new band in a tiny venue.  Overall, the film feels like a series of personal love letters to the city, from a great band whose music is defined by it.
The Royal Festival Hall is profiled in the latest of the films, This is Tomorrow (2007).  This is closer to a traditional documentary, with talking heads and a historical focus on the initial construction of the hall, for the 1951 Festival Of Britain.  However, there is still much focus on the urban landscape, backed by Saint Etienne's atmospheric, often joyous, music.
Less engaging is What Have You Done Today, Mervyn Day? (2005).  Set in the Lea Valley on 7/7, it feels much more controlled, more scripted, and feels less like an honest expression of how Kelly and the band feel about London than Finisterre.
Ultimately this is largely a package for fans, either of essay films or of Saint Etienne.
The images are up to the BFI's usual high standards, and the films are all sharp and detailed, very impressive for standard definition.  Vitally, the soundtrack is well mixed and strikes a fine balance between score and narration.
Extras consist of a booklet of essays about the films, including two by Saint Etienne's Bob Stanley and several short films.  The best short is Seven Summers, a follow up to What Have You Done Today, Mervyn Day? that charts the changes to the Lea Valley seven years after that film was made and is narrated in the beautiful voice of Saint Etienne's Sarah Cracknell.
Sam has awarded A London Trilogy: The Films of Saint Etienne three Torches of Truth