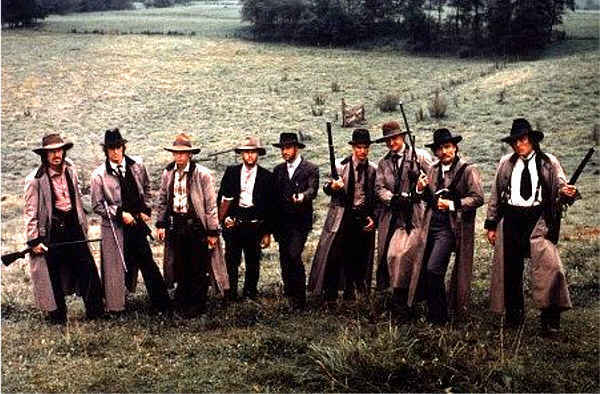 In post-Civil War America a legendary band of outlaws, including the James and Younger brothers, blaze a trail of attacks on banks and the newly formed railroad as they head west across the country.

In the land of the free, these brothers answer to no one but themselves when it comes to seeking revenge for all the injustices they feel have wronged them. Soon the gang discover they have the Pinkerton detective agency following them, culminating in a gun-fight at a bank raid in Northfield, Minnesota.
The Long Riders director Walter Hill used the brothers' angle in the film to cast real-life siblings in the lead roles. The James boys are played by James & Stacy Keach, the Youngers by David, Keith & Robert Carradine, the Millers by Randy & Dennis Quaid and the Fords by Chris and Nicholas Guest. It's an inspired idea that works to strong effect, the Carradines having the most fun in their roles, but it's the Quaids that stand out.
Hill's direction helps levitate The Long Riders above your standard Western with all the recognisable touches that come to prominence in his later movies. He keeps the gun fights to a minimum but when they do happen it feels like all-out war and we are right in the middle of it. But it's not just the hooligan side of the gang Hill puts up for judgement, he also shows the men having a softer delicate side that shows these bandits could be as normal as the people they rob.
Here is a work that should stand up along with the other classic Westerns. Wonderfully acted by all the cast, expertly directed by cult figure Hill and with a masterful score by the legendary Ry Cooder, The Long Riders has been overlooked for far too long.
Mark has awarded The Long Riders on Blu-ray four Torches of Truth