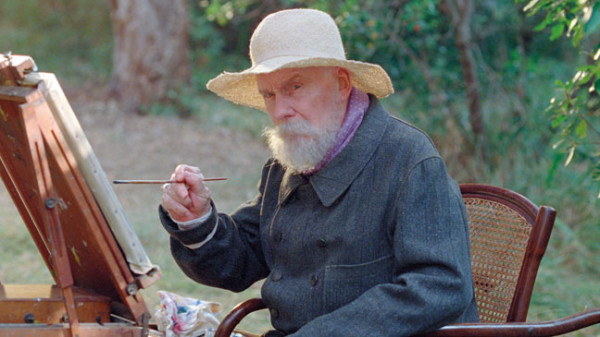 Set during the summer of 1915 in the idyllic French Riviera home of Pierre-Auguste Renoir (Michel Bouquet), writer and director Gilles Bourdos' film is centred on the artist's muse, Andrée (Christa Theret), who arrives at his home and studio after his late wife suggested she should pose for the Impressionist painter.
With the Great War 1914 – 1918 raging, Renoir's second son Jean (Vincent Rottiers) is home to convalesce having been badly injured at the Front. All the joyful elements of women, food, comfort, art and family surround Renoir as he battles to continue his work through the pain and disfigurement of rheumatoid arthritis. 21-year-old Jean wants to find his place in the world beyond his father's concerns. Andrée is determined to fulfil her dreams of becoming a screen actress.
Infusing his film with all the dappled light of an Impressionist painting, Renoir is visually captivating. The famous aesthetic and colour palette is utilised throughout with the stunning French Riviera, the perfect canvas for the drama. The familial challenges of living with a recognised, focused artist are explored and how the next generation deal with the success of their elders. Renoir may want to only capture beauty, but that is not the entire story.
Christa Theret gives depth to the figure of the muse while embodying the ethereal quality to inspire artistry. In a smaller role as Renoir's youngest son, known as Coco, Kid on the Bike's impressive young actor Thomas Doret continues to shine through the frustrated ferocity of a boy struggling under the single-minded ambition of his elderly father.
Based on the real lives of the Renoirs, the script is a simply told tale of the entanglements of family life. It is in the golden cinematography and revelling in the iconic Renoir imagery where the film derives its strength.
Mairéad has awarded Renoir three Torches of Truth