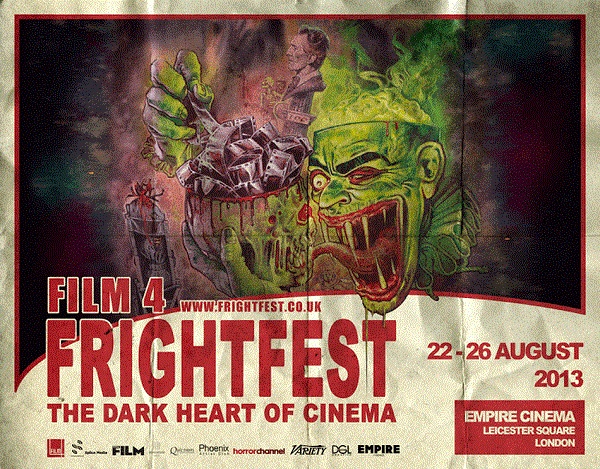 Film4 FrightFest today announced the Main Screen and Discovery Screen line-ups for their 2013 festival. There will be 51 movies from 11 countries across the globe and a whopping 33 UK or European premieres and 10 world premieres. Kicking off five days of horror cinema celebration, that Guillermo Del Toro dubbed 'the Woodstock of Gore', on Thursday 22nd August will be the Ford Brothers' anticipated zombie sequel, The Dead 2: India.
Alan Jones, Festival co-director, said today:
"Fourteen years down the line from our seminal start in 2000, the ambitions of the Film4 FrightFest remain exactly the same: to promote horror and fantasy in all its rich and varied ways, to foster the latest in world genre cinema, to highlight our vibrant home-grown independent sector and to invite an international array of directors, actors and filmmakers to discuss their work. For that reason we have remained at the vanguard of the genre".
Horror hounds will be able to gourge themselves silly on such titles as Curse of Chucky, V/H/S 2, In Fear, bring Me The Head of the Machine Gun Woman, R.I.P.D, You're Next, Haunter, Frankenstein's Army, Big Bad Wolves, Hatchet III, plus many more!
For the full Main Screen and Discovery Screen line-up check out Film4 FrightFest's official site here: www.frightfest.co.uk .
Film4 FrightFest will run from 22nd – 26th August at Leicester Square's Empire Cinema. Main Screen films will play in Screen 1 with Discovery Screen titles occupying Screens 2 & 4. A new strand has been introduced this year titled FrightFest Xtra, where the most popular films will be repeated for the benefit of those unable to see them first time round due to being sold-out.
Festival & day passes go on sale from 29 June. Tickets for Individual films are on sale from 27 July. Bookings can be made via this number: 08 714 714 714 or www.empirecinemas.co.uk .
Stay tuned for more updates regarding Film4 FrightFest, including special guest announcements and the '666 Short Cuts To Hell' competition winners (in association with Horror Channel and Movie Mogul). And yes, for a 4th year running, Andy Nyman will play quizmaster for the popular 'Quiz from Hell' slot.
New Empress will be running a Film4 FrightFest preview article in due course. Until then, take a gander into the schedule. Roll on August!