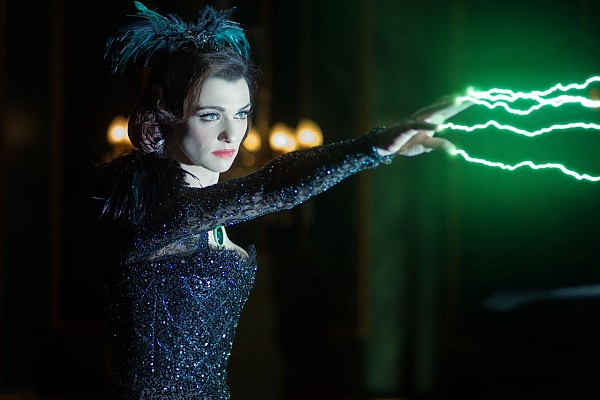 Dodgy circus magician, Oscar Diggs (James Franco), is transported to a land far away by a tornado. Thinking he has found fame and fortune amongst the people of the merry old land of Oz, by pretending to be a great wizard foretold by a prophecy, he meets three witches, Theodora (Mila Kunis), Evanora (Rachel Weisz) and Glinda (Michelle Williams), who can see straight through his lies. Oz has many problems and Oscar is drawn into them and must decide whether he wants to be a good man or a great one.
Oz The Great and Powerful is a seriously ambitious project from Sam Raimi, yet with Disney's mega bucks behind him, the director has managed to pull it off with style and aplomb. Not too dissimilar to The Wizard of Oz in its visual styling, we are treated to huge panoramic shots that burst with vibrant colour and eye-popping detail. The 3D further adds to the immersive texture of the images.
James Franco delivers one of his best performances as Oscar. The magician boasts an ability to stumble his way through a multitude of problems and also seduce all who come across him. All three female co-leads have their own unique style to the witches, too. Williams's subtle yet robust Glinda is commanding when required. Rachel Weisz has a lot of fun portraying the maniacal and icy Evanora. However, Kunis, as Theodora, is the performance that stands out as the best of the trio. Initially soft and vulnerable, once the transformation occurs the actress embodies the evil role with every ounce of her soul and plays it on the edge of madness. Her wicked cackle chills the bone every time.
Oz The Great and Powerful is a film the entire family will love, but still features those quintessential Raimi touches that fan boys will relish, making for an utterly spellbinding and magical blockbuster movie.
Mark has awarded Oz The Great and Powerful five Torches of Truth