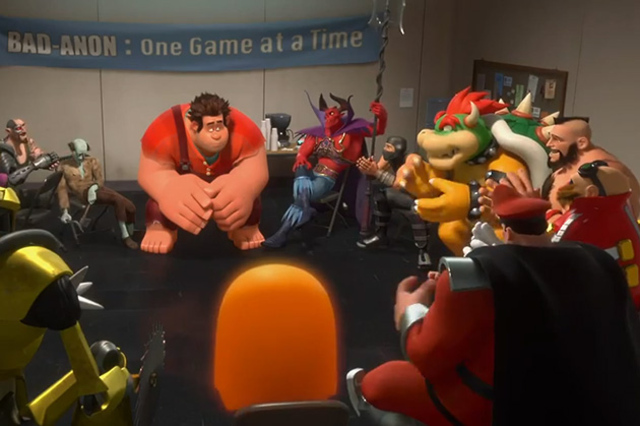 Remember that ingenious, Toy Story-inspired short that headed theatrical showings of The Muppets last year? The one where Buzz Lightyear winds up at a support group for discarded meal-deal toys? Wreck-It Ralph is a feature-length version of that, of sorts, but instead of being an unloved fast food toy our protagonist is an arcade game villain by the name of Wreck-It Ralph (John C. Reilly).
I say villain, he's not a bad guy; he's just doing his job and, frankly, it's a pretty thankless one as he is socially ostracised by the hero of the game: Fix It Felix, Jnr (Jack McBrayar) and his merry band of do-gooders who live in the mansion Ralph is programmed to wreck. Finding no solace in the bad guy support group Ralph trespasses into the circuits of other games in an attempt to win the biggest accolade any arcade character can dream of: medals.
Hiring Rich Moore to direct this film was a decided masterstroke. His experience on shows such as Futurama and The Simpsons has gifted him with the ability to expertly undercut sentimentality, an important talent when dealing with the sweetened shades of Disney yarns.
Adapting the Pixar template ('what happens to computerised characters when the kids go home?' isn't a far throw from 'what happens to toys when nobody's looking?') also works well for Disney; the audience is immediately jacked into a pixelated universe of gaming nostalgia with a glut of gaming in-jokes and a parade of much-loved arcade icons. They've also made some offbeat but inspired casting choices with Sarah Silverman, Alan Tudyk and Jess Harnell chiming in alongside the dreamily downtrodden tones of Reilly.
The stand-out vocal performance, however, comes from Jane Lynch who is cast as the G. I. Jane-esque 'Cy-bug' fighter, Calhoun. Barking lines such as: "Flattery don't charge these batteries, civilian" and "It looks like doomsday and Armageddon just had a baby" Lynch's dry, husky notes are perfect for the job.
There's a fair chance, due to the retro value of the narrative, that you'll enjoy this more than your kids will, but Silverman will definitely hold their attention as the rascally, race-car-obsessed glitch, Vanellope. Whatever you do, get to the auditorium early. You do not want to miss Disney's latest short: The Paperman; it is digital bliss.
Image courtesy of Disney
Helen has awarded Wreck-It Ralph four torches.