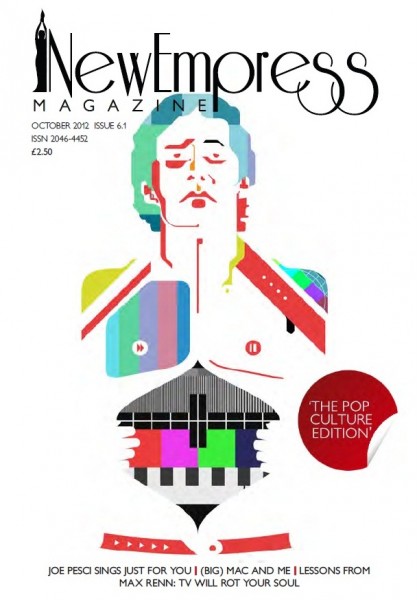 The second digital edition of the year is here! Our front cover is illustrated by Rory Mitchell and inspired by the unforgettable body horror: Videodrome. New Empress Magazine's Minema  titles are a mini-digi-dose of film commentary, interviews and flashbacks. Inside this issue our writers have examined the way brands, TV, music and other elements of popular culture cross over into the world of moving pictures. In addition to articles on Videodrome, Mac and Me and Joe Pesci's singing career we've also got an exclusive interview with director Mark Andrews and producer Katherine Sarafian who have most recently worked on Brave. Our new columnist Girl Gatsby offers her exclusive guide to silent film and regular columnist Adam Glasspool explains yet again why he hates film, this time it's all about spoilers. The digital issue comes to subscribers free of charge or can be bought as an individual taster for £2.50.
Simply purchase the issue online and a private link to the digital edition will be sent to your inbox!
Alternatively, click here to subscribe to make sure you never miss either a print or a digital edition!