By Ben Harris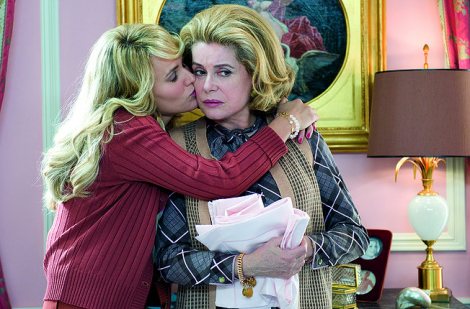 The only knowledge I had of Potiche (Trophy Wife) is that it was recently the annoying Orange mobile advert shown before a film in the cinema. The advert seemed to have made a mockery of the French film. However, I have to admit I found Potiche thoroughly enjoyable with its witty script and likeable performances.
Potiche, set in 1977, is an adaptation of the successful play by Pierre Barillet and Jean-Pierre Gredy. The story revolves around Suzanne Pujol (Catherine Deneuve), a seemingly housebound 'trophy' housewife, who takes over a umbrella factory run by her wealthy husband, Robert (Fabrice Luchini), after his workers go on strike and take him hostage. Suzanne proves herself an excellent asset to the team when she starts work but things get complicated when her husband returns and it's clear he wants his job back.
Potiche starts light hearted but, as it progresses, highlights views regarding the role of women in work and society that were common in France at that time. At the start we see that Suzanne is controlled by her husband and she appears comfortable within that role. Once Suzanne takes over the business you see a huge conflict developing over what her role in life should be, really developing Suzanne as a character. She is perceived at first as a caring, staunchly loyal and dull housewife but a racy past unravels, containing revelations which do not go down well with the other characters but endear her to us. She is finally showing that she doesn't need to follow orders and is independent in her own right.
The film has a great feel to it: visually it's very appealing with its vibrant colours and smooth direction. It captures well the feel of the 1970s and a subtle use of humour creates a light tone to the film.
Catherine Deneuve is the highlight within the cast, she is charming to watch. Deneuve has great chemistry with Gerard Depardieu's character: the Mayor with whom Suzanne had a brief fling. Fabrice Luchini is brilliant and makes playing a pompous business man look easy. He also has some of the best comical facial expressions. François Ozon impresses with his cast and direction, keeping things interesting with split screens and amusing transitions to flashbacks.
The subtitles may come thick and fast but Potiche is a well written film with great use of humour, successfully lightening the political subject.
Potiche is released on DVD and Blu-ray on the 10th of October.