By Adam Vaughan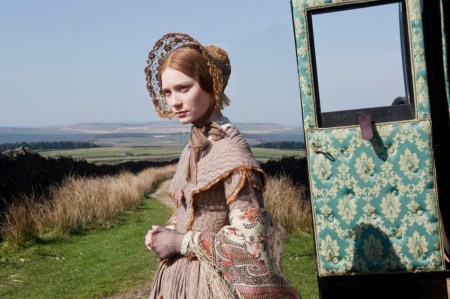 Charlotte Bronte's Jane Eyre has experienced much heartache on the big and small screen across the decades, dealing with the advances by and her attraction towards her employer, the secretive Mr Rochester. This latest outing for the eponymous heroine is co-produced by BBC Films, but succeeds at never feeling like a Sunday afternoon T.V. movie.
Unlike the upcoming re-interpretation of sister piece Wuthering Heights by Andrea Arnold (which will feature a black Heathcliff), director Cary Fukunaga opts for a more traditional approach meaning that this 21st century Jane has to again endure the oppressive nature of living in a strongly patriarchal, imperialist society.
Although a flashback structure gives the adaptation a whiff of complexity – and a slightly overlong running time – it is Fukunaga's melancholic, oneiric camera that is the film's most striking aspect as it sweeps from the desolate, almost post-apocalyptic drudgery of the Victorian Yorkshire moors to moody, candlelit interiors inside Thornfield Hall.
The performances are similarly gloomy. Mia Wasikowska (of Alice in Wonderland fame) as Jane constantly wears an angst-ridden expression, a visible reminder of her unsettled past. However, beneath this miserable exterior she embodies a fierce determination to step out of the bounds this society has drawn for her. Michael Fassbender's Rochester (an understandably more anguished, quietly wild incarnation compared to Orson Welles' interpretation from the 40s) mentions Wasikowska's waif-like otherworldliness on numerous occasions.
Able support is provided by Judi Dench as Thornfield's busy-body housekeeper Mrs Fairfax and Jamie Bell's clergyman and alternative love-interest to Jane who, together with a beautifully-realised dreamlike aesthetic and a striking central performance by Wasikowska, elevate the film above its Sunday tea-time viewing potentials.