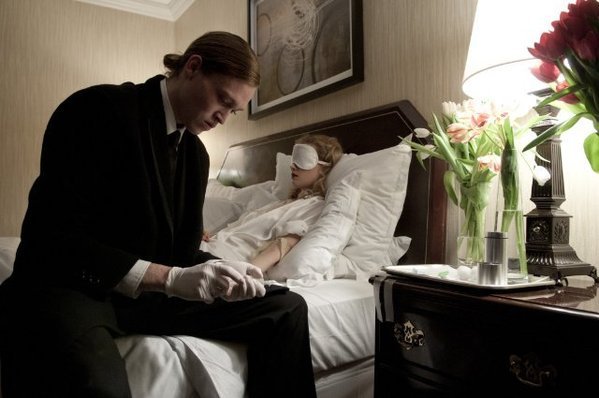 Brandon Cronenberg's directorial debut takes us to an unidentified future where society's obsession with 'celebrity' has reached the depraved extremes of paying to be injected with their favourite celebrities' illnesses and diseases. When technician, Syd March (Caleb Landry Jones) injects himself with the ailment of his company's biggest celebrity, who subsequently dies from said ailment, the race is on to uncover the truth and find a cure.
Antiviral is fascinating commentary on society as interest in all things celebrity reaches a new unhealthy level. In Cronenberg's future, celebrities are no longer simply people, they are commodities that exist for the public's consumption and  for businesses to profit from.
It touches on the portrayed perception that celebrities are the epitome of perfect, that they are without flaws, and fans need to feel as close as possible to them, by any means necessary. The ideal of perfection is shown alongside the reality of the infections, the shakes, the vomiting, the skin infections. It would seem perfection doesn't look quite to glossy in real life.
Jones is in his element as Sid's physical health continues to decline, bringing just the right amount of sinisterism to the role, and we are left pondering whether his actions are financially motivated, or a result of his own obsessions.
Cronenberg creates an interesting, visually startling world, sterile and void, giving the impression that people are searching for something more, something that they perhaps feel is missing from their lives, and this manifests in the need to share every element of a celebrities lives, including their illnesses. A number of scenes are not particularly easy to watch, and it would seem the apple hasn't fallen too far from the tree.
That's not to say Antiviral is without problems. It would have benefitted from some ruthless editing to reduce the number of lingering shots of Sid's demise, which feel increasing drawn out and add very little to the story as we are already well aware of just how sick he is. Character development is also on the slim side. There is no explanation as to what exactly these people are famous for. However I took this to be a nod to the current culture of 'celebrities' becoming famous for virtually nothing.
All in all, Antiviral marks a gutsy debut from a director whose family name meant he had a huge amount to live up to. Expect great things in the future.
Antiviral plays at the London Film Festival on Monday 15 October. For tickets visit www.lff.org.uk
Vicki has awarded Antiviral three Torches of Truth.