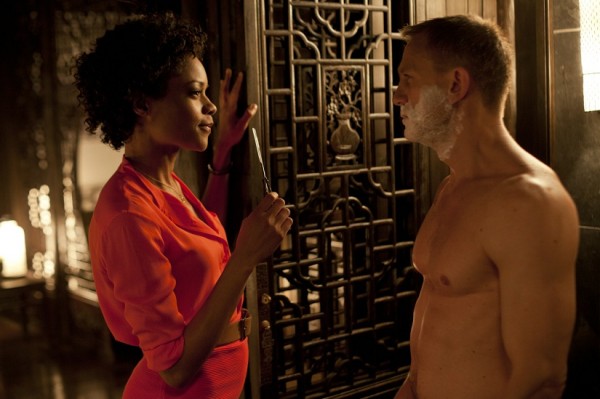 "Where are we going?" Judi Dench's M asks Daniel Craig's Bond, as they drive towards their final meeting with destiny, one that involves a vengeful ghost from her past, and more familiar memories from his own. "Back in time." replies agent 007 with characteristic terseness. In the year that marks the 50th anniversary of the spy franchise, this 23rd instalment features other, more explicit nods to the classic Bond tradition, but none more resonant than this. Director Sam Mendes, best known for quasi-Art House films such as Revolutionary Road and the multi-Oscar winning American Beauty, imbues Skyfall's twisty storyline and human relationships with an emotional impact that is unusual for a series much loved for its atavistic manliness, thrilling chase scenes, globe-trotting exoticism and beautiful, often dangerous women.
Neither is Mendes content to merely wallow in nostalgia: from the outset, he astutely acknowledges the need to revitalise the series with new blood. Witness his clever casting of Naomie Harris (28 Days Later) as feisty field agent Eve and Ben Wishaw (from TV's The Hour) as an unusually young Q, now more skilled in computer wizardry than inventing exploding pens. Observe too, Mendes' inspired casting of Javier Bardem as Silva, a playfully camp yet mentally tortured villain. It would be impossible to imagine a character more removed from the slab-faced, emotionless sociopath Anton Chigurh in the Coen Brothers' No Country For Old Men, though both have a vicious streak.
Now Silva, an ex-MI6 agent abandoned by M to a cruel fate some years ago, is back to take revenge on the woman who, for both Bond and himself, plays the role of surrogate mother. This personal agenda places Bond and M outside the protection of MI6, following an ad hoc survival strategy that is familiar to the renegade 007 but frighteningly new to his institutionalised boss. Despite Mendes' emphasis on psychologically complexity, the script by Neal Purvis & Robert Wade (Casino Royale) and John Logan (Gladiator) still delivers the expected action scenes and exotic locales. That said, even Bond's exciting pre-credits pursuit of a fleeing enemy agent – through the crowded streets of Istanbul, over the rooftop of its bazaar and on the top of a speeding train – ends in a way that leaves the audience stranded in mid-air. More significantly, it signals the fact that Skyfall, like Bond himself, is not about to play by the rules.
Yet even in the middle of this superbly mounted scene, which showcases both Roger Deakins' eye-ravishing cinematography and veteran British editor Stuart Baird's splicing skills, there is a moment of classic Bond suavity. Leaping through a gaping hole ripped out of the train carriage's roof, into a compartment full of gawping passengers, Bond pauses for an instant, to adjust his shirt cuff.
Nigel has awarded Skyfall four Torches of Truth