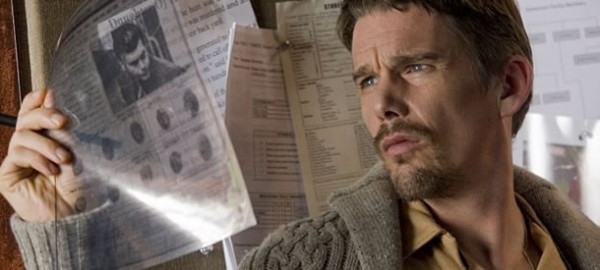 Halloween is upon us and, with it, the somewhat disturbing obsession with the sub genre 'found-footage'. So it's no wonder that the producers of the hugely successful Paranormal Activity franchise and 2010 fright fest Insidious have unleashed another entry into a faltering formula. With Scott Derrickson (The Exorcism Of Emily Rose) at the helm, can Sinister reverse the trend?

Opening its account with a horrific sequence forewarning us of the terror to come, we're immediately thrown into the familiar trappings of a tight knit family settling into new surroundings. Desperate to recapture his literary glory days, Ethan Hawke's true crime writer Ellison Oswalt is on the hunt for an instant hit. Motivated by his initial discoveries of the house's disturbed history and the need to fuel his own ego, Ellison begins to dissect past events thanks to a handy collection of  home videos depicting well calculated and grisly killings of various families stretched over the course of five decades.
With his wife (Juliet Rylance) already bemused by his peculiar approach to work and his children immersed in such a hostile environment.. Has Ellison finally bitten off more than he can chew?

Whilst its influences are blindingly obvious (Stanley Kubrick's The Shining for one), Sinister thoroughly succeeds in being a superior entry to the genre. In particular, the claustrophobic long shots of characters lurking in corridors, the skewered framing and the incorporation of the 'Super 8′ gimmick, all aid the film's cause in delivering some truly frightening moments and haunting imagery that will be imprinted on your mind.

Sinister also punches above its weight thanks to a compelling central performance by Ethan Hawke. Fuelled by alcoholic beverages and convincingly portraying the relentless obsession of being a leading light of his profession, you almost buy into the notion that he would have the audacity to put his career first over his 'daddy duties'.

Sure, the film shifts into a more pedestrian and predictable trajectory as it draws ever closer to the reveal, which doesn't have the impact it so desperately craves, however, Sinister is a well-executed and consistently tense affair that is undoubtedly the best horror film of 2012.
Darryl has awarded Sinister four Torches of Truth.