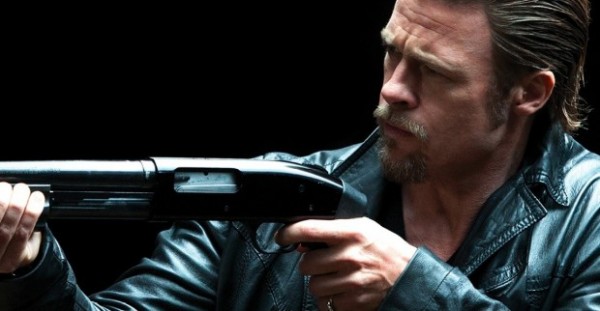 The story of a gangland clean-up job in recession addled New Orleans, Killing Them Softly is another assured piece of work from writer-director Andrew Dominik (Chopper, The Assassination of Jesse James by the Coward Robert Ford).  It may be true that the film's recurring allegory is a touch heavy-handed at times, but with sharply written dialogue, great performances from its ensemble cast and stylistic bravado few could pull off, this is a highly enjoyable – and refreshingly concise – 97 minutes.
An adaptation of George V. Higgins' 1974 novel, Cogan's Trade, the film shifts the action to 2008, where small-timers Frankie (Scoot McNairy) and Russell (Ben Mendelsohn) are fixing to steal the pot from a high stakes poker tournament run by the well-liked, but little trusted, Marky (Ray Liotta).  With their employer Jonny (Vincent Curatola) assuring them that Marky's own reputation will see him bear the blame, it seems like a dream come true for the bumbling duo, that is until shrewd and unruffled enforcer Jackie (Brad Pitt) is called in to investigate.
Neatly groomed and clad entirely in black, Jackie is an immediate contrast to the grubby low level crooks he pursues. He may be thug, but he is also a professional; a man who acknowledges that there's no point in dishing out a beating unless it's strictly necessary (after all, "it's a really unpleasant experience").  Yet whilst he carefully circles his prey like a shark, others are less collected, with his fellow hit-man 'New York Mickey' (James Gandolfini) arriving on a scene a depressed and drunken liability, more inclined to hire a girl than fire a gun.
With Dominik's script finding pleasure examining these layers of underworld hierarchy, there's a lot of fun to be had – especially with the film's central fugitives. And with their rags-to-riches aspirations at the plot's core, the film is able to use the criminal network as a parallel for America's economy as a whole; the dreams of the workers quashed by an establishment striving to keep order.
Yet whilst Killing Them Softly's recession setting adds some nice touches to the template (Mickey can be seen as the ultimate picture of greed; a man whose hubristic hedonism has created his own downfall), the film's excessive use of election season rhetoric on televisions and radios does feel overbearing.  With the film frequently proving Dominik's skill as a writer, it's just a shame that his metaphors aren't allowed to speak as freely as his characters.
Patrick has awarded Killing Them Softly four Torches of Truth.