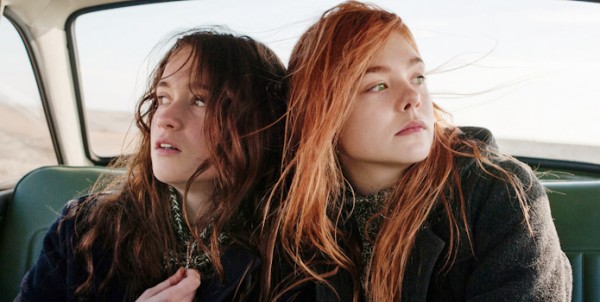 Ginger & Rosa, the much awaited new film from Sally Potter, talks about teenage friendships, political beliefs and family crisis. Opening with some chilling footage of Hiroshima and the birth of two girls, the film moves straight to 1962, at the beginning of the Cuban missile crisis, where those two girls are now teenagers Ginger (Elle Fanning) and Rosa (Alice Englert, Jane Campion's daughter).
They seem inseparable, united by the big dream of a life different from their mothers', who they resent and criticise for their choices. But while Ginger is a mixture of naivety and precociousness, completely preoccupied with the nuclear crisis, Rosa is busy snogging boys, smoking and trying to be cool. There are some beautiful moments between the girls, sitting in a bath of cold water shrinking their blue jeans, straightening their hair with a clothes iron, experimenting with clothes, but overall they are slowing drifting apart, growing up and choosing different paths.
Both girls adore and idolise Ginger's father Roland, (Alessandro Nivola), a pacifist writer who went to prison as a conscientious objector during World War II. He is a very interesting character, somebody who lives completely by his free thinking principles. At the end, he is the key that unlocks the whole story and Ginger and Rosa's life, as making sense of his actions leads them to stand for what they believe in.
Since making Orlando with Tilda Swinton in 1992, Sally Potter seemed to have dedicated herself to small niche films. Ginger & Rosa is a return to mainstream, with an impressive supporting cast which include Christina Hendricks, Annette Bening and Timothy Spall.
Nevertheless, it still feels like a Sally Potter's movie, raw and powerful, that relies entirely on performances. An exceptional Elle Fanning, 13 at the time of shooting, leads the movie, with Nivola at his best and a very good debut from Englert.
Ginger & Rosa beautifully captures a moment in the life of two teenagers within an important moment in history. The advancing nuclear threat becomes the best reminder that life is there for the taking as Potter delivers an intimate and powerful coming-of-age drama.
Silvia has awarded Ginger & Rosa four Torches of Truth.