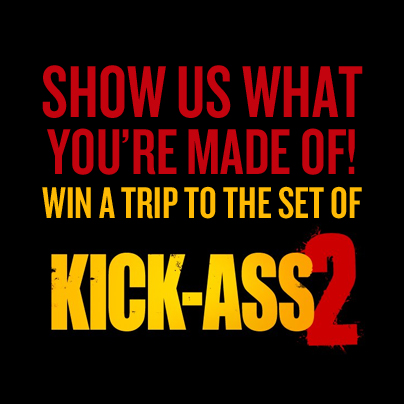 Stop what you're doing right now. That's right, put your knitting/cat/chainsaw down and have a think about what your superhero name would be. Now, we know you've already thought about it passingly, fleetingly, endlessly but now you have an actual excuse to devote time and effort to designing your very own superhero costume and motto to go with that long debated name. If you do as you're told, you could win a visit to the set of Kick-Ass 2!
Universal have arranged this little opportunity for us Kick-Ass fans in the UK and Ireland, but don't feel any need to thank them unless you actually win.
Check the facebook page at www.facebook.com/kickassmovie or go directly to the app: http://a.pgtb.me/rQDKCG for further details but it's as simple as indulging your long held desire to be a superhero [or villain] , taking a picture and uploading it accordingly…
Unfortunately the competition is not open to any Hit-Girl wannabes, over 18s only.
KICK-ASS 2 is due to rock our collective superhero worlds during Summer 2013.