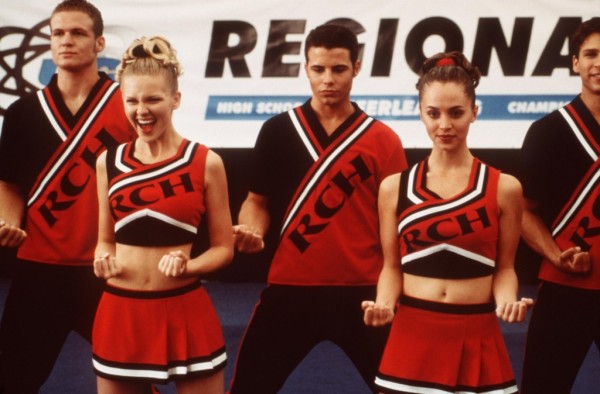 Although Bring It On is probably most frequently Googled for pictures of Kirsten Dunst and Eliza Dushku in scanty outfits (I've saved you the trouble above), behind its corny cheers, over-sprayed hair and super-short skirts is a sharp script that elevates this flick above your average teen yarn.
When Torrance (Kirsten Dunst) becomes head cheerleader, her world is upended when she finds out from new recruit Missy (Eliza Dushku) that their last captain ripped their routine off another squad – The East Compton Clovers. Up until now the Toros have been champions of the national cheerleading competition but this year the Clovers have scraped the money together to compete, meaning the Toros have to come up their own choreography – and they have to make it more original than their LA rivals.
The cast reads like an early noughties wish list of highly watchable actors with Jesse Bradford putting in a stint as an alternative love interest, Gabrielle Union playing the wronged Clovers captain, Isis and Clare Kramer (known for playing Glory in Whedon's Buffy the Vampire Slayer) cranking up her bitch factor as one of the more outspoken members of the squad. All in all it's a fun but quirky addition to the teen genre that definitely stands up to repeated viewings. If only for the spirit fingers.
Click here to watch today's Saturday Matinée. Click to full screen and enjoy!