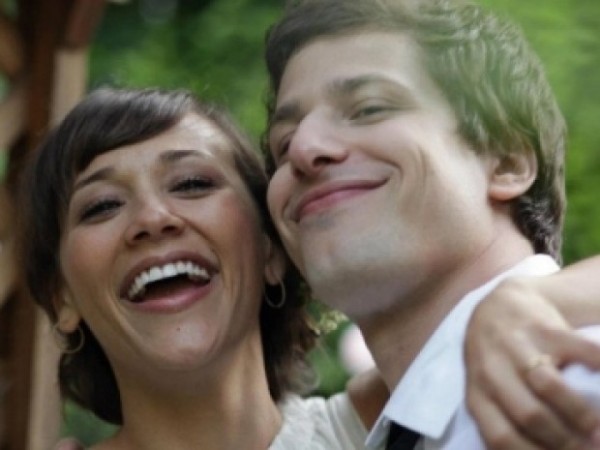 Celeste and Jesse Forever seemingly tells the classic tale of girl meets boy, girl and boy fall in love, girl and boy get married. However, we are made aware that there's more to this particular love story when happily ever after takes place before the title credits have ended.
Celeste (Rashida Jones) is driven, ambitious and, in her mind, always right. Jesse (Andy Samberg) on the other hand is laid back, a slacker of sorts who quite evidently adores his wife. They are two opposites that together appear to make a pretty perfect couple, sharing a plethora of 'in jokes' and quips. They are profoundly comfortable in each other's company.
C&J seeks to side step the classic Rom Com clichés by focusing on what happens after happily ever after. We quickly learn that a divorce is imminent, driven by Celeste's firm belief that there is someone better for her out there. Celeste has always believed that she was the strongest link in their marriage, that it would therefore be her that moved on first, and that she would be happy first, but the unpredictability of life causes Celeste to reconsider the decisions she has made.
There are some strong supporting performances from the small, yet relevant cast. Ari Graynor is beautifully understated as Celeste's devastated best friend, Emma Roberts plays a teen pop sensation with a twist and the ever reliable Elijah Wood is suitably amusing as Celeste's business partner. Samberg too is wonderful as the heartbroken Jesse, who waits patiently for Celeste to love him again, despite the hurt he suffers along the way.
However the real star here is Jones. In Celeste, Jones presents a likable character who, despite her flaws, feels both genuine and vulnerable. Celeste is so stuck on her path to create the best possible future for herself that she misses what is in front of her in the present, namely Jesse.
The real charm of C&J is how natural it feels. Director Lee Toland Krieger is very much aware that the performances of Jones and Samberg are the heart of the film, and quite rightfully ensures that nothing eclipse this. Krieger presents a deliciously low key portrayal of painful truths and the realisation of taking things for granted.
In writing a beautifully natural role for herself, Jones has surely established herself as one to watch, and is likely to see her career trajectory continue to rise in the future.
Vicki has awarded Celeste and Jesse Forever four Torches of Truth.

Celeste and Jesse Forever plays at the London Film Festival on Saturday 20 th and Sunday 21 October. For tickets visit www.lff.org.uk