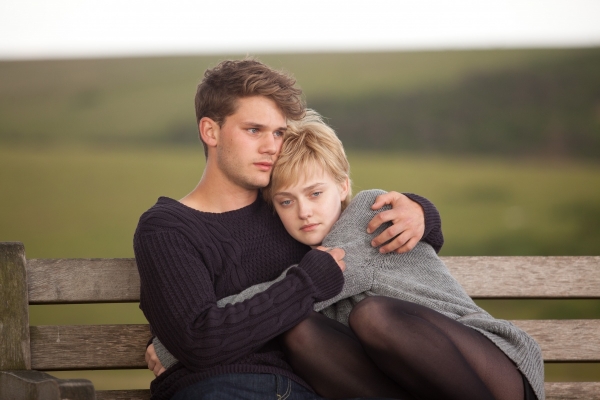 Let's just get this out of the way right at the beginning; Now Is Good is a big old weepfest. Having said that, we'll add an extra clarification for those of you who might feel a little bit put off by that statement. It is a weepfest but also an honest, fun and at times infuriating account of a collection of lives affected by cancer.
Tessa (Dakota Fanning) has been struggling with cancer and the various body and soul knackering treatments which go along it but we meet her when she's decided that enough is enough and has decided to live whatever is left of her teenaged life without non-recreational chemical interference. Her divorced parents, Paddy Considine and Olivia Williams, are struggling in their own very different ways to make sense of their eldest child's upcoming demise. Her friend Zoey (Kaya Scodelario) is the only person managing to be supportive, achieving this by joining in on shoplifting escapades and other such bucket list style activities.
Tessa seems unsure of what she really wants to do until she gets friendly with the boy next door Adam, played by scrummy boy next door type Jeremy War Horse Irvine. He has a motorbike and everything. And scene set, we slowly move towards the end of the film.
There are a lot of things to like about this film and so we believe that Director Ol Parker should give himself a pat on the back. Paddy puts in a touching performance as the father already grieving for his still-alive daughter and Olivia is able to move away from recent stereotypical roles with a ditsy, unconcerned performance, which is nice. Dakota pulls off the accent and her character's leukaemia-induced anger, nicely balanced by Jeremy as her love interest, effortlessly adorable whenever he's on screen. Things not to like include the sometimes startling score and Zoey's contribution to the story; it seems little ropey and shoved in there to make things just a little more sad.
The honesty of the narrative is very refreshing, no willing the character to deal with it and get better. No sugarcoating. The moments of humour, when they come, are unexpected and feel very realistic. As we said, it's a real tearjerker so don't go to see it with anyone you don't want to witness your blotchy snot-encrusted face at the end.
Maryann has awarded Now Is Good three Torches of Truth.