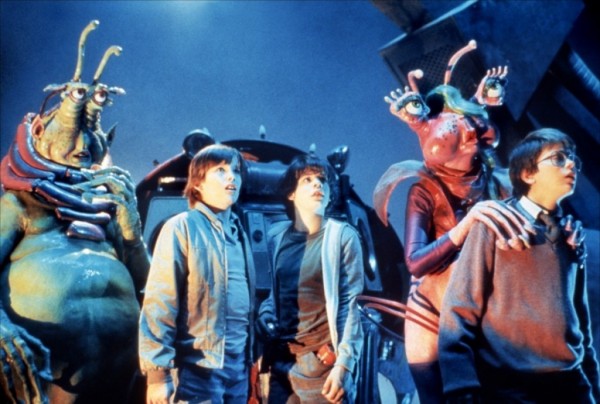 Welcome to the first ever New Empress Magazine Saturday Matinée. Each Saturday afternoon we'll be introducing a film that you can stream for free online. Our first offering is the somewhat forgotten children's sci-fi adventure, The Explorers from director Joe Dante. This picture features both River Phoenix and Ethan Hawke in their debut feature-length roles as wannabe space explorers who build their own spaceship. Joined by their new friend Darren (Jason Presson, who also appeared in Gremlins 2 as Alex the Yoghurt Jerk – I'm not making this up, that's exactly how he's credited) the trio depart on an journey to another galaxy they'll never forget.
Since its release this film has become a cherished cult masterpiece amongst Dante fans. The director himself wasn't completely satisfied with the finished product, due to studio trouble Dante was forced to stop shooting and release a cut of the film no matter what, but there is still plenty to enjoy about this rather offbeat entry in Dante's filmography. The child actors build a convincing chemistry, Dick Miller (the man who appears in all of Dante's projects but most famously as Murray Futterman in Gremlins) plays a significant role in the proceedings and, as with all of Dante's pictures, his B-Movie roots are gleefully evident.
Dante learnt his filmmaking skills with the accepted master of all B-Movies, Roger Corman and there are few, if any, directors, as accomplished as Dante at funneling the dark, B-Movie undercurrent into mainstream films. This flick features futuristic dreams, sentient machines, alien life forms and This Island Earth is referenced in the first ten minutes of screen time. There really is very little more you could ask for when it comes to lazy Saturday afternoon fare.
Click here  to watch today's Saturday Matinee . Switch to 'full screen' and enjoy!