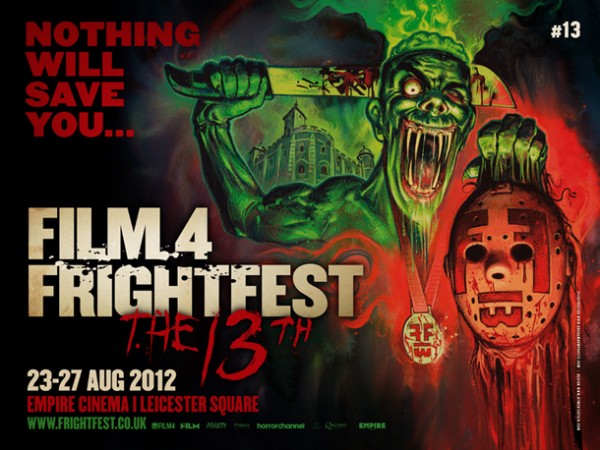 The August Bank Holiday weekend can only mean one thing, Film4 Frightfest returns to the Empire Cinema in London's Leicester Square. Opening and closing films, The Seasoning House and Tower Block respectively, are both looking to fit into that British horror category that has given us Eden Lake, Triangle and Colin in recent years. Other films that look to be the standouts include The Possession, produced by legendary horror director Sam Raimi which is about a young girl who buys a music box that hides an ancient spirit. [Rec3] Genesis, the third film in the saga plays out at a wedding where the virus takes hold of the guests and Maniac, a remake of the 80's serial killer slasher flick starring Elijah Wood. One movie that is already building a buzz is V/H/S, the fact it's another found footage film should not put you off as this film takes a different approach to many other found footage flicks. When it played at Sundance, Paramedics were called to treat a couple who walked out and were sick due to one of the more intense scenes.
Film4 Frightfest offers a much-needed outlet for many foreign language horror films. In the past they have played host to Haute Tension, The Happiness of the Katakuris, The Orphanage and many more. This year is no different with over ten subtitled films in the programme, popular titles such as the "inspired by true events" Hidden In The Woods (from Chile), Hitchcock-esque Paura 3D (from Italy) and the bonkers Dead Sushi (from Japan) are just some of the more offbeat presentations.
Once again is the Discovery screen will be in operation, this is where the smaller films play over the full weekend giving the fans a chance to catch  hidden gems on the big screen. Don't be fooled, however, into thinking they are all low budget affairs. The past couple of years have seen break out hits such as After. Life, Amer, Colin and A Horrible Way To die. It's anyone's guess as to what might be the next surprise success from the Discovery screen but Vampire film "We Are The Night", survival thriller "Elevator" and Rik Mayall starring "Errors Of The Human Body" are all strong contenders for that accolade this year.
A new addition to this year's festival is the Re-Discovery screen, here attendees will get to see classics horror films on the big screen, some for the first time. On the Sunday the screen will be run by House of Hammer Productions who will be screening newly restored versions of their classics The Devil Rides Out, Rasputin The Mad Monk and The Mummy's Shroud. Also to tie-in with Universal Pictures centenary year there will be a chance to catch a rare cinema screening of The Bride of Frankenstein.
Alongside the plethora of films to see, Film4 Frightfest will also have appearances from directors, actors, writers etc. Previous years have seen appearances from Guillermo Del Toro, Neil Marshall, Eli Roth, Christopher Nolan, Ron Perlman, Michael Fassbender and many more. This year is no different, directors scheduled to appear include Jennifer Lynch, Paco Plaza, Paul Hyett and the Manetti Brothers amongst others. Actors from nearly all the films playing are scheduled to show up, including Sean Pertwee, Sheridan Smith, Russell Tovey, Leticia Dolera, Ross Noble, Claudia Gerini and Dudley Sutton. The yearly Icon award, in association with Total Film magazine, is legendary horror director Dario Argento. He will be in discussion with Alan Jones about his career in film, and the newly updated book on his life by the interviewee will be available over the whole weekend. Also let's not forget about Andy Nyman's Quiz From Hell, back again for another year to test the knowledge of the hardcore horror aficionados. With Nyman having spent a few days filming around London for certain parts of the quiz, it's sure to be another tough selection of questions.
A key element that makes this festival standout is the interaction between fans and the actors, directors and filmmakers. It's normal to see horror directors Adam Green and Joe Lynch just wandering around talking to fans throughout the whole weekend. Also actor/writer Andy Nyman is a regular in amongst the throng, and always has time to stop and chat. Sexy horror actor/presenter Emily Booth will be there reporting on the festival for The Horror Channel, and having her photo taken with anyone polite enough to ask. Film4 Frightfest is very welcoming to new and regular attendees, not only do you get time to mingle in the foyer area before the films start but they also arrange special festival drinks in a nearby bar over the whole weekend.
Film4 Frightfest demonstrates year after year why they are the leading horror festival, and this year looks set to be no different.