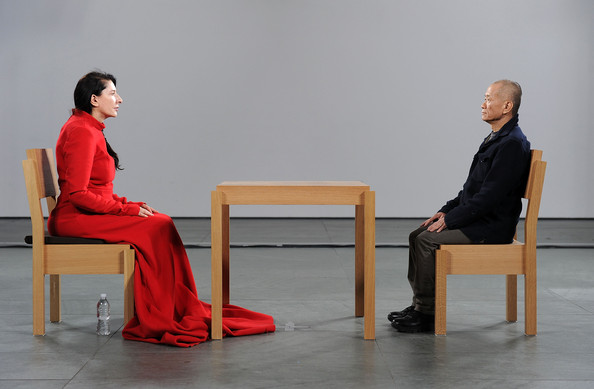 On Sunday, a panel that included Louis Theroux and Carol Morley voted for the Special Jury Award of DocFest 2012. Their selection was Marina Abramović: The Artist is Present , a portrait of one of the most recognisable and potentially important artists of the latter half of the 20 th century, including her latest exhibit at MOMA (Museum of Modern Art), a truly remarkable undertaking.
Marina is a performance artist, she pushes her body to the limits of its physical capabilities whilst also deconstructing her personal inhibitions and fears. Her latest experiment was surely the most extreme of her entire career – which has now spanned 40 years – for three months, she sat on a chair in a space in MOMA for the building's full opening time, adding up to 736-hours in total, without movement, food or communication. Members of the public were invited to sit opposite her for as long as they liked, making it a thoroughly sensual, perhaps even spiritual experience.
Despite my potential aversion to performance art etc., I found myself thoroughly enthralled in the film. It's populated by great, charismatic, thoroughly artistic characters. Some of them are like caricatures of the gallery world, with their incredible pitch-white hair and fashionable clothes, but they all seem highly likeable.
Marina herself is a fascinating woman, she grew up with very strict parents and her art appears to have come as an emotional rebellion to that suppression. She's thought of as an eccentric – some would say crazy – but this film makes her seem thoroughly human and perhaps even vulnerable. Her life is a bit of a puzzle; having been a real outsider from the mainstream for many years, she now relishes the comforts that her profitable career allows her to have while still retaining her capacity for unconventional art.
Consider the physical and mental strength needed to sit still for three entire months; in that space of time she appears to age a decade, gradually decreasing in strength of posture and mental fortitude. She does make it, however, and she impacts upon many people's lives in the process.
Marina Abramovic may not be my favourite film at this year's DocFest, but I can see why the jury opted to vote for it. Considering the wealth of environmental, music and political docs on show, this may be essentially a biography but it also sometimes plays out as a love story.
This documentary will greatly satisfy the art enthusiasts amongst us. However, those who, like me, have their reservations about modern art, should not be put off – it's well-made enough to keep your attention and perhaps, in some cases, even change your perspective.