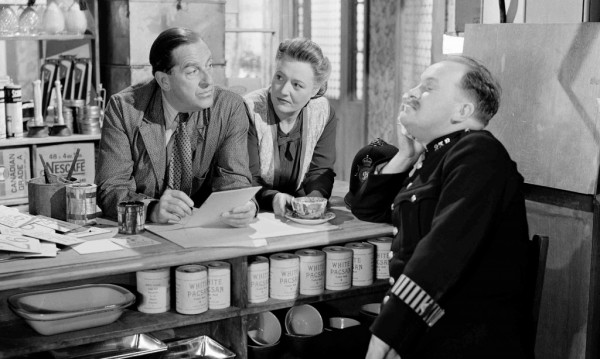 Between the Jubilee weekend and the opening of the Olympic Games, Studio Canal have arranged a special season of screenings that will see 5 classic British films back on the big screen. The first is 1949's Passport to Pimlico . Though this film doesn't match the high points set by pictures such as the Ladykillers, Kind Hearts and Coronets and the Man in the White Suit, it is still a very charming and surprisingly satiric way to spend 90 minutes.
Set against the backdrop of the aftermath of World War Two, the residents of Miramont Gardens, Pimlico accidently detonate a dormant bomb, inadvertently exposing a cavern of hidden treasure.  Within this treasure lies a declaration that Pimlico actually belongs to the Duke of Burgundy and is therefore foreign soil – cue many cries of "cor blimey Gov, I'm a foreigner", etc.  What follows is a petty game of one-upmanship between the inhabitants of Pimlico/Burgundy and Whitehall.
Despite this being a fairly light-hearted endeavour, the material veers into dark territory from time to time.  We all know about rationing from studying the Second World War, but it's easy to forget that these policies were still largely in place way into the 1950s.  The connection made between rationing and the Government attempting to starve the residents is quite telling, especially when the largest risk to Whitehall is losing face.  The film was made during the Berlin Blockade, when the Soviet Union tried to wrestle control of the entirety of Berlin from the Allied Forces by starving the city, adding further undertones of public unrest.  Also, it's hard to see the blockade and the barbed wire surrounding the residents of Miramont Gardens and not be reminded of the horrific conditions in both POW and concentration camps, especially when the shadow of WW2 looms so prominently over the plot.
Passport to Pimlico hasn't aged as well as some of the other Ealing Comedies; many of the lines fall flat and some of the performances are rather ropey.  The script, however, enjoys playing with the very logical and staid nature of this escalation and the more qualified members of the cast make fine work of playing up the farce.  The humour is best when it is at its most situational and it is always worth witnessing performances of the calibre of Stanley Holloway (My Fair Lady), Basil Radford (the Lady Vanishes) and a pre-Carry On Charles Hawtrey.
Passport to Pimlico is out on Digitally restored DVD and Blu-Ray on 11th June.
Click here to watch a clip from Passport to Pimlico.