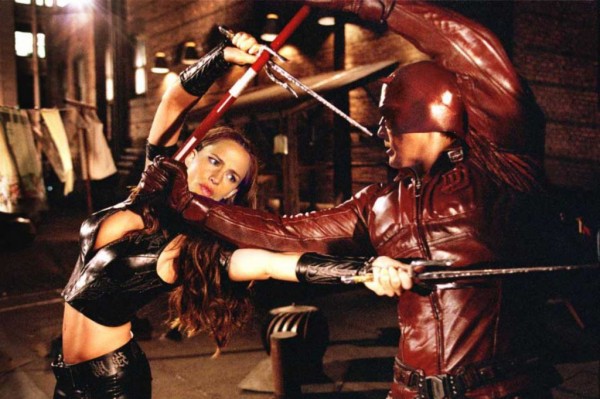 With The Amazing Spider-Man (2012) set to do brisk business at the box-office, producer Avi Arad's long term plan to reinvigorate the comic book movie franchise seems to have finally paid off. The Israeli businessman who managed to wrestle control of Marvel in the wake of its mid-nineties bankruptcy is now, far and away, one of the most powerful figures in Hollywood. His road to glory, however, is littered with good films, bad films and downright ugly films. Have you blocked out the bad ones at the mere sight of Emma Stone sporting the blonde look? Let's refresh, shall we?
It was a somewhat unlikely flick that began Arad's journey. In Blade (1998), Wesley Snipe's vampire killer caught the attention of a generation hopped up on Manga and Japanese cinema. Two years later director Bryan Singer's X-Men (2000) slashed its way onto cinema screens and with a $300 million return Arad had a bona fide hit on his hands, even if objectively speaking the film was weak.  Though the likes of Patrick Stewart and Ian McKellan undoubtedly lift it from the doldrums, fans of the comic book series were deeply disappointed with Singer's interpretation of the iconic X-Men characters.
It was Sam Raimi's Spider-Man (2002) that finally proved Arad had true filmmaking gumption; the stunning visual effects combined with a bullet-proof origin story made for a genuine cinematic spectacle. Although Spider-Man 2 (2004) was arguably superior to it's predecessor, Spider-Man 3 (2007) was bloated and uninspiring. Raimi had no intention of including the character of Venom but Arad persuaded him that the Symbiote was the fan's villain of choice. In truth, Arad was right but with Sandman already on board the script became too convoluted. Sure it  made a sack load of money but it was clear that Raimi's web-slinging days were over.
Between 2000-2008 Arad produced eighteen films for Marvel and during this time his quality control took a decided nosedive. Daredevil (2003) was ruined by Colin Farrell's ridiculous take on Bullseye. The Punisher (2004) and Punisher: War Zone had their moments but neither Thomas Jane or Ray Stevens could nail Frank Castle's complexity. Nicholas Cage was woefully miscast as Ghost Rider (2007), Daredevil spin-off Elektra (2005) was still-born and as for X-Men: Last Stand (2006), well, when you hire Brett Ratner to direct you know for sure the bottom of the barrel has been thoroughly scraped.
In the case of The Hulk (2003) and The Fantastic Four (2005) both of these franchises should have been the jewels in the proverbial comic book crown but Ang Lee's unfamiliarity with the jolly green giant and his desire to make a psychodrama instead of an all out action movie resulted in a critical and commercial flop. The Fantastic Four on the other hand, and its hack job sequel The Fantastic Four : Rise of the Silver Surfer (2007), was a cold case of naïve direction and poor writing.
It wasn't until the inspired casting of Robert Downey Jnr as billionaire playboy Tony Stark in Iron Man (2008) that Arad redeemed himself but that was due to luck rather than design. The main villain is weak and the action limited but Downey Jnr's charisma was irresistible to both critics and audiences alike, resulting in a career rebirth. Iron Man and it's sloppy sequel, however, were nothing more than foreplay; Arad's grand vision was ultimately to bring The Avengers (2012) to the screen, a film which has recently become the third highest grossing movie of all time.
The success of The Avengers, to some extent, absolves Arad's previous sins but it also gave him earth's mightiest problem. How can future solo outings by Marvel characters hope to match up to the big one? Joss Whedon might be talented but he can't direct them all. Consequently, unless Arad becomes a little pickier about who he collaborates with it's possible his biggest hit will eventually become his personal albatross.