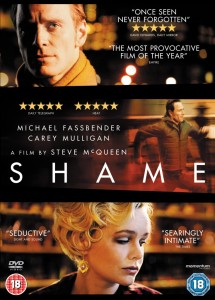 To celebrate the Blu-ray and DVD release of Steve McQueen's Shame on the 14th May, we're giving you the chance to win a DVD copy of your very own!
Recipient of both industry and audience recognition, Shame boasts a formidable cast, including 2011′s London Critics Film Circle Award Winner: British Actor of the Year – Michael Fassbender (A Dangerous Method, Prometheus), BAFTA® award-winner Carey Mulligan (An Education, Drive, Never Let Me Go) and James Badge Dale (The Departed, The Grey). Shame is blessed with powerful and visceral performances that will draw you even deeper into this dark drama and the complicated dynamics of human connection.
From award-winning director Steve McQueen (Hunger), Shame is a compelling and timely examination of the nature of need, how we live our lives and the experiences that shape us.
For a chance to win a copy on DVD simply share this competition on Facebook making sure you tag us when you do!