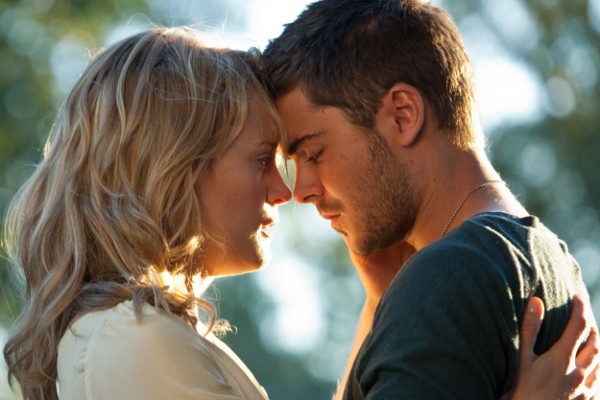 If there's one thing we know about a Nicholas Sparks story, it's what to expect. So predictable is a Sparks narrative that we imagine the author has a checklist that he fills out before penning each novel. Following the commercial success of the romantic weepy writing machine's previous theatrical adaptations, said list is now typed up on sheets of $100 bills and used as wallpaper. Probably.
Sparks' latest novel-turned-film, The Lucky One, is no exception to the tried-and-tested formula. Zac Efron stars as Logan, a marine who unearths a photograph of a woman whilst on tour in Iraq and narrowly escapes a bomb explosion in the process. Crediting the picture with his survival, Logan returns to America, determined to locate the woman in the photo and thank her for saving his life.
Using his very best detective skills (scrolling through images of lighthouses to match the one featured in the background of the photo – simple), Logan soon finds himself face-to-face with his beautiful good-luck charm, Beth (Taylor Schilling). Of course, he can't just rock up on her doorstep and say 'thanks', so Logan takes on a job as the Sexy Handyman (official title) at Beth's kennels – much to the dismay of her caricature-villain ex husband, Keith (Jay R. Ferguson).
Things soon hot up between the pair and before long, Beth's inviting Logan in for Jambalaya and steamy shower sex. Their relationship blossoms and everything seems to be going along swimmingly – Logan is even letting Beth's son win at chess because he's a good guy like that. But Logan *still* hasn't revealed the truth behind his sudden appearance…
And so the story plods on to the backdrop of an idyllic, sun-kissed Louisiana. Director Scott Hicks delivers no surprises with The Lucky One and so it's left to Beth's wise and witty live-in grandma (Blythe Danner) to lift up this cliched and bland drama.
That being said, Efron and Schilling do have chemistry and their romance – though sometimes painfully saccharine – is convincing. So, is The Lucky One Efron's launchpad to  break free from that artificially shiny High School Musical (2006) label? It's difficult to tell. He may have bulked up with the pros for his part – a far cry from the all-singing and dancing Wildcat – but Efron's stoical character is a particularly limiting role.
The Lucky One is paint-by-numbers Nicholas Sparks. With six previous adaptations to go by, fans certainly know what they're paying for and it's unlikely they will be disappointed with Hicks' interpretation. If it's mindless swooning you're after, look no further.